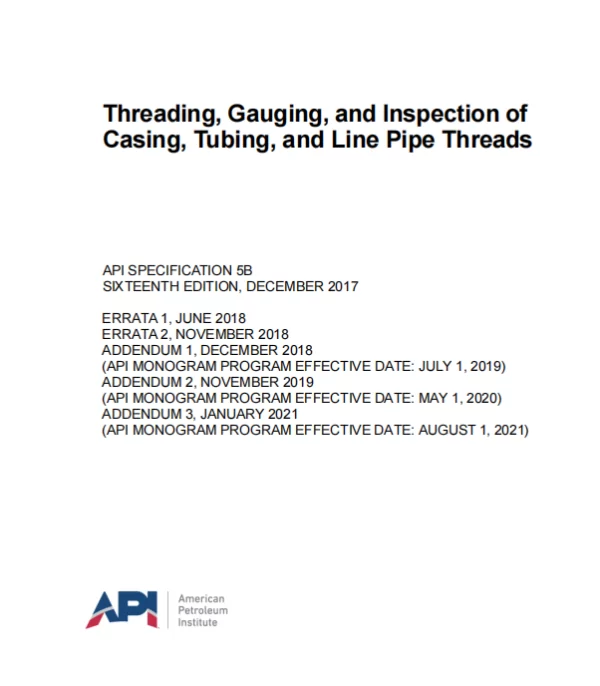 $117.00
Threading, Gauging, and Inspection of Casing, Tubing, and Line Pipe Threads
16th Edition
Includes all amendments and changes through Addendum 3, January 2021
Published by American Petroleum Institute, 12/01/2017
Description
API 5B, 16th Edition – Threading, Gauging, and Inspection of Casing, Tubing, and Line Pipe Threads
Coverage—Threading and Gauging
API 5B covers dimensions, tolerances, and marking requirements for API threads and the gauges that control the acceptance criteria for the threads. Thread element gauges, instruments, and requirements for the inspection of threads for line pipe, round thread casing, round thread tubing, and buttress casing connections are included. Thread dimensions shown without specifications (or shown as NA) are not subject to inspection of diameter, ovality, and addendum. Thread dimensions shown without tolerances are related to the basis for connection design and are not subject to measurement to determine acceptance of product.
Coverage—Inspection
Thread inspection applies at the point of manufacture prior to shipment, to inspection at some intermediate point, to inspection subsequent to delivery at destination, and to inspection by inspectors representing the purchaser or the manufacturer. The manufacturer may, at his or her option, use other instruments or methods to control manufacturing operations; but acceptance and rejection of the product is determined by the results of inspection made in accordance with the requirements of this specification.
Thread inspection is performed using instruments designed to measure either the functional relationship of multiple thread elements or measure an individual thread element. The inspection requirements include measurements of standoff, diameter, ovality, addendum, taper, lead, height, and angle of thread that are applicable to threads having 111/2 or less turns per inch (0.45 or less turns per mm). Ring and plug gauges are designed to measure the functional size of an internal or external thread. Individual thread elements listed are measured with one or more specific instruments.
See API 5B1 for additional inspection procedures.
Application of the API Monogram
If product (master gauges only) is manufactured at a facility licensed by API and it is intended to be supplied bearing the API Monogram, the requirements of Annex A apply.
Other Applications
By agreement between the purchaser and manufacturer, the supplemental requirements for Enhanced Leak Resistance LTC in API 5TRSR22 and Annex B apply.
Information on the shipping of Master Gauges can be found in Annex C.
General Product Information:
Preview
Document History