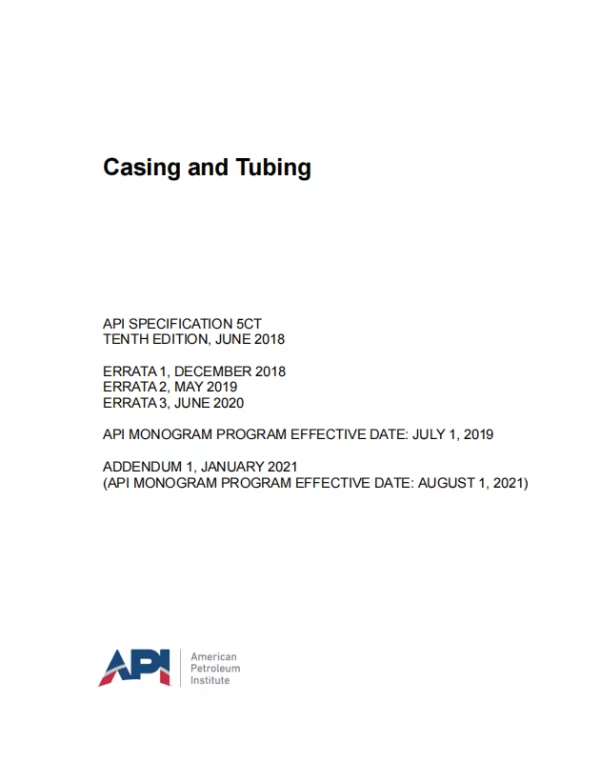 $203.00
Casing and Tubing
10th Edition
Published by American Petroleum Institute, 06/01/2018
Description
API 5CT, 10th Edition – Casing and Tubing
Coverage
API 5CT specifies the technical delivery conditions for steel pipes (casing, tubing, and pup joints), coupling stock, coupling material, and accessory material, and establishes requirements for three product specification levels (PSL-1, PSL-2, and PSL-3). The requirements for PSL-1 are the basis of this standard. The requirements that define different levels of standard technical requirements for PSL-2 and PSL-3, for all grades (except H-40, L 80 9Cr, and C110) are provided.
For pipes covered by this standard, the sizes, masses, and wall thicknesses, as well as grades and applicable endfinishes, are provided. API 5L pipe may be ordered as casing in accordance with API 5C6.
By agreement between the purchaser and manufacturer, this standard can also be applied to other plain-end pipe sizes and wall thicknesses.
Applicability—Connections
API 5CT is applicable to the following connections in accordance with API 5B:
— short round thread casing (SC)
— long round thread casing (LC)
— buttress thread casing (BC)
— non-upset tubing (NU)
— external upset tubing (EU)
— integral tubing (IJ)
For such connections, this standard specifies the technical delivery conditions for couplings and thread protection. Supplementary requirements that can optionally be agreed upon for enhanced leak resistance connections (LC) are provided.
API 5CT can also be applied to tubulars with connections not covered by API standards.
API 5CT is not applicable to threading requirements.
NOTE Dimensional requirements on threads and thread gauges, stipulations on gauging practice, gauge specifications, as well as instruments and methods for inspection of threads, are given in API 5B.
Applicability—Grades
The products to which this standard is applicable include the following grades: H40, J55, K55, N80 (all types), L80 (all types), C90, R95, T95, P110, C110, and Q125.
Supplementary Requirements
Supplementary requirements that may be specified by the purchaser or agreed between purchaser and manufacturer for non-destructive examination, fully machined coupling blanks, upset casing, electric-welded casing, tubing and pup joints, impact testing, seal-ring couplings, tensile testing, and sulfide stress cracking testing are provided.
Application of the API Monogram
If the product is manufactured at a facility licensed by API and is intended to be supplied bearing the API Monogram, the requirements of Annex A apply.
General Product Information:
Preview