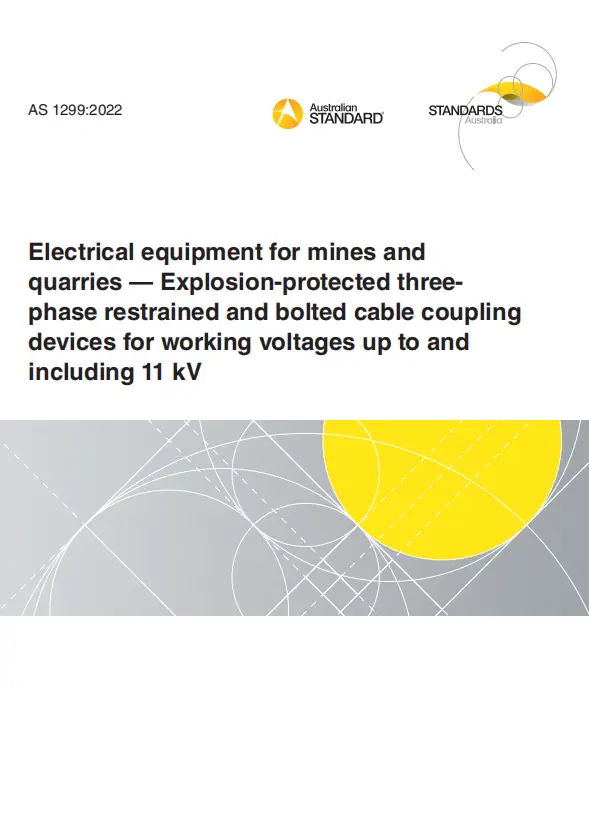 $78.00
Electrical equipment for mines and quarries – Explosion-protected three-phase restrained and bolted cable coupling devices for working voltages up to and including 11 kV
Published by Standards Australia, 08/19/2022
Description
AS 1299, 1st, 2022 – Electrical equipment for mines and quarries – Explosion-protected three-phase restrained and bolted cable coupling devices for working voltages up to and including 11 kV
AS 1299 was prepared by the Australian members of the Joint Standards Australia/Standards New Zealand Committee EL-023, Electrical Equipment in Mines and Quarries, to supersede AS/NZS 1299:2009, Electrical equipment for mines and quarries — Explosion-protected three-phase restrained plugs and receptacles for working voltages up to and including 3.3 kV and AS/NZS 1300:2009, Electrical equipment for mines and quarries — Bolted explosion-protected three-phase cable coupling devices. After consultation with stakeholders in both countries, Standards Australia and Standards New Zealand decided to develop this document as an Australian Standard rather than an Australian/New Zealand Standard.
The objective of this document is to provide requirements and guidance for explosion-protected threephase restrained plugs, receptacles and cable coupling devices to manufacturers, users, regulatory authorities and associated interests and for use with other related Australian/New Zealand Standards and relevant mining regulations. It also is to allow for the use of existing compatible cable coupling systems and for the introduction of new non-compatible cable coupling systems.
This document differs from the previous edition in that it combines the previous AS/NZS 1299 and AS/NZS 1300 into one document (now designated AS 1299).
The terms "normative" and "informative" are used in Standards to define the application of the appendices to which they apply. A "normative" appendix is an integral part of a Standard, whereas an "informative" appendix is only for information and guidance.
General Product Information:
| | |
| --- | --- |
| Committee | EL-023 |
| Purchase Note | All current amendments available at time of purchase are included with the purchase of this document |
| Document Type | PDF |
| ISBN | 978 1 76113 904 8 |
| Pages | 52 |
| Document Language | English |
| Publisher | Standards Australia |
| Status | Current |
Preview
Table of cotents
Preface
1 Scope and general
1.1 Scope
1.2 Normative references
1.3 Terms and definitions
1.4 Service conditions
1.5 Ratings, dimensions and colour coding
1.5.1 Type A
1.5.2 Type B
1.6 Marking
2 Design
2.1 Enclosure
2.1.1 Explosion protection
2.1.1.1 Restrained receptacles
2.1.1.2 Bolted adapters
2.1.2 Ingress protection
2.1.3 Mounting
2.2 Clearance and creepage distances
2.3 Materials
2.4 Fasteners
2.5 Cable glands
2.6 Terminals
2.6.1 General
2.6.2 Conductor insertion depth
2.7 Contact sockets and pins
2.7.1 General
2.7.2 Materials
2.7.3 Construction of sockets
2.7.4 Location of sockets and pins
2.7.5 Pins
2.7.6 Self-adjusting arrangements
2.8 Earthing
2.8.1 General
2.8.2 Phase barrier
2.8.3 Scraping earth contact on restrained devices
2.8.4 Type B alternate earth contact
2.8.5 Terminals
2.9 Insulation material properties
2.10 Operating and retaining method for restrained devices
2.10.1 General
2.10.2 Removal operation
2.10.3 Type B devices
2.11 Cable reel receptacle
2.12 Receptacle body
2.13 Earth receptacles and adapters
3 Testing
3.1 Categories of tests
3.2 Routine tests
3.2.1 General
3.2.2 High voltage test
3.2.3 Contact pressure test
3.2.4 Scraping earth contact — Restrained devices
3.2.5 Earth contact test — Type B restrained devices
3.3 Type tests
3.3.1 General
3.3.2 List of type tests — Restrained devices
3.3.2.1 Type tests that are not required to be conducted in the sequence
3.3.2.2 Type tests that are required to be conducted in the sequence
3.3.2.3 Product performance related testing
3.3.3 List of type tests — Bolted devices
3.3.3.1 Type tests that are not required to be conducted in the sequence
3.3.3.2 Type tests that are required to be conducted in the sequence
3.3.3.3 Product performance related testing
3.3.4 Operating and retaining mechanism test — Restrained devices
3.3.4.1 Operating mechanism test
3.3.4.2 Retaining method test
3.3.5 Cable gland (slip load) test
3.3.6 Phase barrier (slip load) test
3.3.7 Thermal endurance test
3.3.8 High voltage test
3.3.9 Contact integrity test
3.3.9.1 Procedure
3.3.9.2 Requirements
3.3.9.3 Scraping earth test — Restrained devices
3.3.9.4 Earth contact test — Type B restrained devices
3.3.10 Temperature-rise test
3.3.10.1 General
3.3.10.2 Preparation of receptacle/adapter
3.3.10.3 Preparation of plug/coupler
3.3.10.4 Placement of temperature-sensing devices
3.3.10.5 Application of current
3.3.10.6 Requirements
3.3.11 Short-circuit (through-fault) test
3.3.12 Earth-circuit (through-fault) test
3.3.13 Over pressure test
3.3.14 Partial discharge test
3.3.14.1 General
3.3.14.2 Testing procedure
3.3.14.3 Requirements
3.3.15 Impulse withstand test
3.3.15.1 General
3.3.15.2 Testing procedure
3.3.15.3 Requirements
4 Figures and dimensions — Restrained devices
4.1 General
4.2 Receptacle mounting templates
5 Figures and dimensions — Bolted devices
5.1 General
5.2 Adaptor, coupler and end cover
5.3 Adaptor mounting template
Appendix A
Appendix B
Appendix C
Bibliography