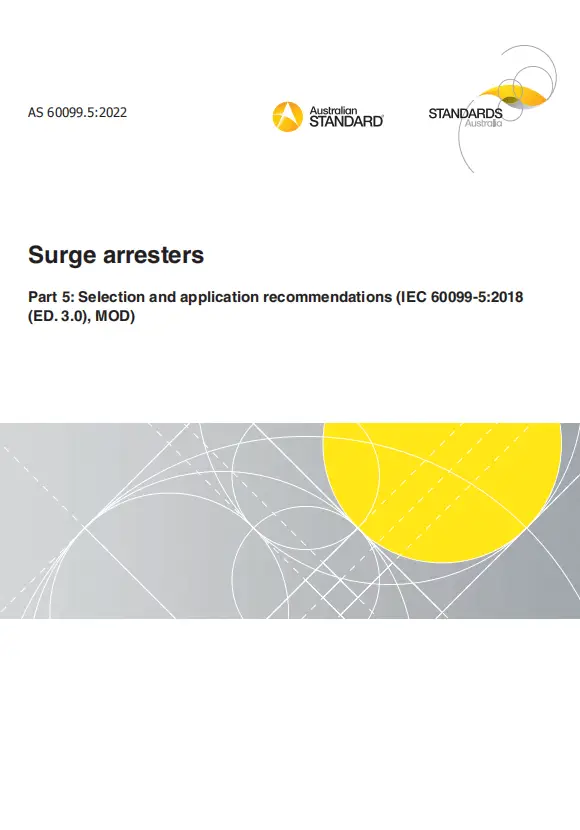 $119.00
Surge arresters, Part 5: Selection and application recommendations (IEC 60099-5:2018 (ED. 3.0), MOD)
Published by Standards Australia, 12/16/2021
Description
AS 60099.5, 1st, 2022 – Surge arresters, Part 5: Selection and application recommendations (IEC 60099-5:2018 (ED. 3.0), MOD)
AS 60099.5 adopts and modifies IEC 60099 5:2018, which provides information, guidance, and recommendations for the selection and application of surge arresters to be used in three-phase systems with nominal voltages above 1 kV.
General Product Information:
| | |
| --- | --- |
| Committee | EL-007 |
| Purchase Note | All current amendments available at time of purchase are included with the purchase of this document |
| Document Type | PDF |
| ISBN | 978 1 76113 998 7 |
| Pages | 192 |
| Document Language | English |
| Publisher | Standards Australia |
| Status | Current |
Preview
Table of cotents
AS 60099.5 was prepared by the Australian members of the Joint Standards Australia/Standards
New Zealand Committee EL-007, Power Switchgear.
After consultation with stakeholders in both countries, Standards Australia and Standards New
Zealand decided to develop this document as an Australian Standard rather than an Australian/New
Zealand Standard.
The objective of this document is to provide information, guidance, and recommendations for the
selection and application of surge arresters to be used in three-phase systems with nominal voltages
above 1 kV. It applies to gapless metal-oxide surge arresters as defined in AS 60099.4:2022, to surge
arresters containing both series and parallel gapped structure, rated 52 kV and less as defined in
IEC 60099‑6, and metal-oxide surge arresters with external series gap for overhead transmission and
distribution lines (EGLA) as defined in IEC 60099‑8. In Annex J, some aspects regarding the old type of
SiC gapped arresters are discussed.
This document is an adoption with national modifications, and has been reproduced from,
IEC 60099‑5:2018 (ED. 3.0), Surge arresters – Part 5: Selection and application recommendations. The
modifications are additional requirements and are set out in Appendix ZZ, which has been added at the
end of the source text.
Appendix ZZ lists the variations to IEC 60099‑5:2018 for the application of this document in Australia.
Appendix ZA provides an application guide to spark production classification for distribution arresters.
Appendix ZB provides advice about the selection of standard and high multi-pulse lightning duty
arresters for distribution applications.
As this document has been reproduced from an International document, the following applies:
(a) In the source text "this part of IEC 60099" should read "this document".
(b) A full point substitutes for a comma when referring to a decimal marker.
Australian or Australian/New Zealand Standards that are identical adoptions of international
normative references may be used interchangeably. Refer to the online catalogue for information on
specific Standards.
The terms "normative" and "informative" are used in Standards to define the application of the
appendices or annexes to which they apply. A "normative" appendix or annex is an integral part of a
Standard, whereas an "informative" appendix or annex is only for information and guidance.