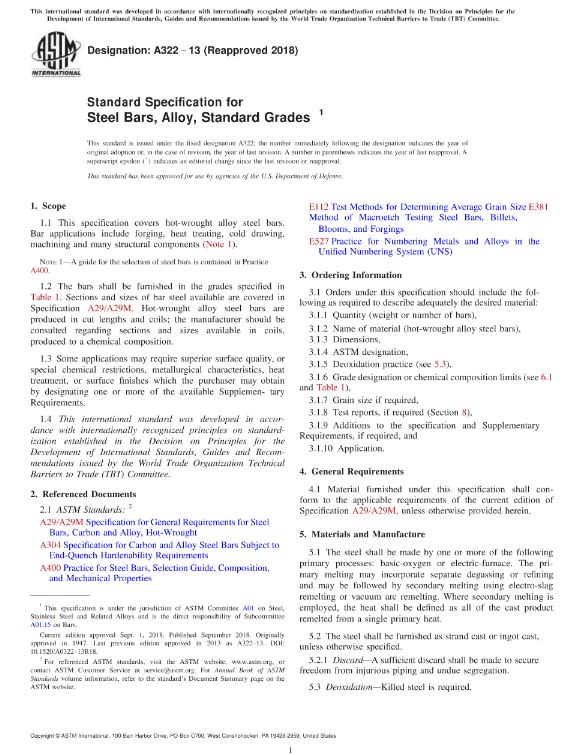 $35.00
Standard Specification for Steel Bars, Alloy, Standard Grades
Includes all amendments and changes through Editorial Change 1, May 2020
Published by ASTM International, 05/01/2013
Description
ASTM A322, 2013 Edition – Standard Specification for Steel Bars, Alloy, Standard Grades
This specification covers hot-wrought alloy steel bars. Bar applications include forging, heat treating, cold drawing, machining and many structural components (Note 1).
NOTE 1—A guide for the selection of steel bars is contained in Practice A400.
The bars shall be furnished in the grades specified in Table 1. Sections and sizes of bar steel available are covered in Specification A29/A29M. Hot-wrought alloy steel bars are produced in cut lengths and coils; the manufacturer should be consulted regarding sections and sizes available in coils, produced to a chemical composition.
Some applications may require superior surface quality, or special chemical restrictions, metallurgical characteristics, heat treatment, or surface finishes which the purchaser may obtain by designating one or more of the available Supplementary Requirements.
This international standard was developed in accordance with internationally recognized principles on standardization established in the Decision on Principles for the Development of International Standards, Guides and Recommendations issued by the World Trade Organization Technical Barriers to Trade (TBT) Committee.
General Product Information:
ASTM Volume
01.05: Steel–Bars, Forgings, Bearing, Chain, Tool
Specifications and test methods examine the properties of various steel bars intended for specific or general applications. Standards focus on carbon and alloy steel axles, wrought carbon steel wheels, steel tires, and carbon and alloy steel forgings for railway use.
Volume 01.05 also provides standards for steel forgings and billets in assorted applications, such as pressure vessels, rotors, and general use. The remaining specifications cover steel chain, bearing steels, and tool steels.