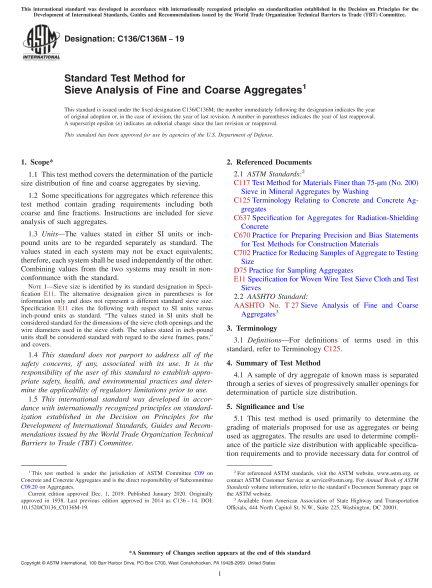 $39.90
Standard Test Method for Sieve Analysis of Fine and Coarse Aggregates
2019 Edition
Published by ASTM International, 12/01/2019
Description
ASTM C136/C136M, 2019 Edition – Standard Test Method for Sieve Analysis of Fine and Coarse Aggregates
This test method covers the determination of the particle size distribution of fine and coarse aggregates by sieving.
Some specifications for aggregates which reference this test method contain grading requirements including both coarse and fine fractions. Instructions are included for sieve analysis of such aggregates.
Units—The values stated in either SI units or inch-pound units are to be regarded separately as standard. The values stated in each system may not be exact equivalents; therefore, each system shall be used independently of the other. Combining values from the two systems may result in non-conformance with the standard.
NOTE 1—Sieve size is identified by its standard designation in Specification E11. The alternative designation given in parentheses is for information only and does not represent a different standard sieve size. Specification E11 cites the following with respect to SI units versus inch-pound units as standard. "The values stated in SI units shall be considered standard for the dimensions of the sieve cloth openings and the wire diameters used in the sieve cloth. The values stated in inch-pound units shall be considered standard with regard to the sieve frames, pans," and covers.
This standard does not purport to address all of the safety concerns, if any, associated with its use. It is the responsibility of the user of this standard to establish appropriate safety, health, and environmental practices and determine the applicability of regulatory limitations prior to use.
This international standard was developed in accordance with internationally recognized principles on standardization established in the Decision on Principles for the Development of International Standards, Guides and Recommendations issued by the World Trade Organization Technical Barriers to Trade (TBT) Committee.
General Product Information:
ASTM Volume
04.02: Concrete And Aggregates
This volume includes test methods, specifications, and practices on concrete and concrete aggregates, curing materials, grout, and expansion joint fillers. These standards address abrasion testing, fluid penetration, chemical admixtures and reactions, concrete for radiation shielding, evaluation of data and laboratories, NDT, in-place testing, petrography, self-consolidating concrete, pervious concrete, and more.
It also includes the ASTM Manual of Aggregate and Concrete Testing.