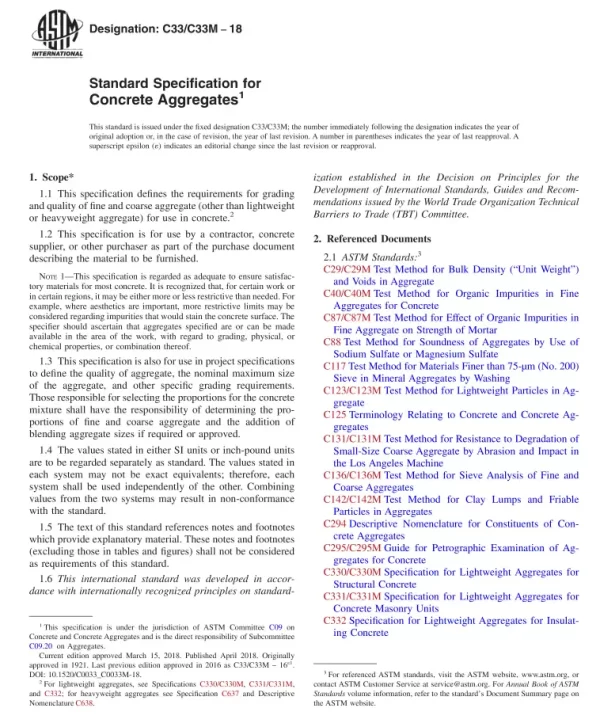 $42.00
Standard Specification for Concrete Aggregates
2018 Edition
Published by ASTM International, March 15, 2018
Description
ASTM C33/C33M, 2018 Edition, March 15, 2018 – Standard Specification for Concrete Aggregates
ASTM C33 defines the requirements for grading and quality of fine and coarse aggregate for use in concrete. Fine aggregate shall consist of natural sand, manufactured sand, or a combination thereof. Fine aggregate shall be free of injurious amounts of organic impurities. Fine aggregate for use in concrete that will be subject to wetting, extended exposure to humid atmosphere, or contact with moist ground shall not contain any materials that are deleteriously reactive with the alkalis in the cement in amount sufficient to cause excessive expansion of mortar or concrete. Fine aggregate subjected to five cycles of the soundness test shall have a required weighted average loss. Coarse aggregate shall consist of gravel, crushed gravel, crushed stone, air-cooled blast furnace slag, or crushed hydraulic-cement concrete, or a combination thereof. The sampling and test methods shall be done with grading and fineness modulus test, organic impurities test, effect of organic impurities on strength test, soundness test, clay lumps and friable particles test, coal and lignite test, bulk density of slag test, abrasion of coarse aggregate test, reactive aggregate test, freezing and thawing test, and chert test method.
Scope
1.1 ASTM C33 defines the requirements for grading and quality of fine and coarse aggregate (other than lightweight or heavyweight aggregate) for use in concrete.2
1.2 This specification is for use by a contractor, concrete supplier, or other purchaser as part of the purchase document describing the material to be furnished.
NOTE 1: This specification is regarded as adequate to ensure satisfactory materials for most concrete. It is recognized that, for certain work or in certain regions, it may be either more or less restrictive than needed. For example, where aesthetics are important, more restrictive limits may be considered regarding impurities that would stain the concrete surface. The specifier should ascertain that aggregates specified are or can be made available in the area of the work, with regard to grading, physical, or chemical properties, or combination thereof.
1.3 This specification is also for use in project specifications to define the quality of aggregate, the nominal maximum size of the aggregate, and other specific grading requirements. Those responsible for selecting the proportions for the concrete mixture shall have the responsibility of determining the proportions of fine and coarse aggregate and the addition of blending aggregate sizes if required or approved.
1.4 The values stated in either SI units or inch-pound units are to be regarded separately as standard. The values stated in each system may not be exact equivalents; therefore, each system shall be used independently of the other. Combining values from the two systems may result in non-conformance with the standard.
1.5 The text of this standard references notes and footnotes which provide explanatory material. These notes and footnotes (excluding those in tables and figures) shall not be considered as requirements of this standard.
1.6 This international standard was developed in accordance with internationally recognized principles on standardization established in the Decision on Principles for the Development of International Standards, Guides and Recommendations issued by the World Trade Organization Technical Barriers to Trade (TBT) Committee.
General Product Information:
Preview
ASTM Volume
04.02: Concrete And Aggregates
This volume includes test methods, specifications, and practices on concrete and concrete aggregates, curing materials, grout, and expansion joint fillers. These standards address abrasion testing, fluid penetration, chemical admixtures and reactions, concrete for radiation shielding, evaluation of data and laboratories, NDT, in-place testing, petrography, self-consolidating concrete, pervious concrete, and more.
It also includes the ASTM Manual of Aggregate and Concrete Testing.