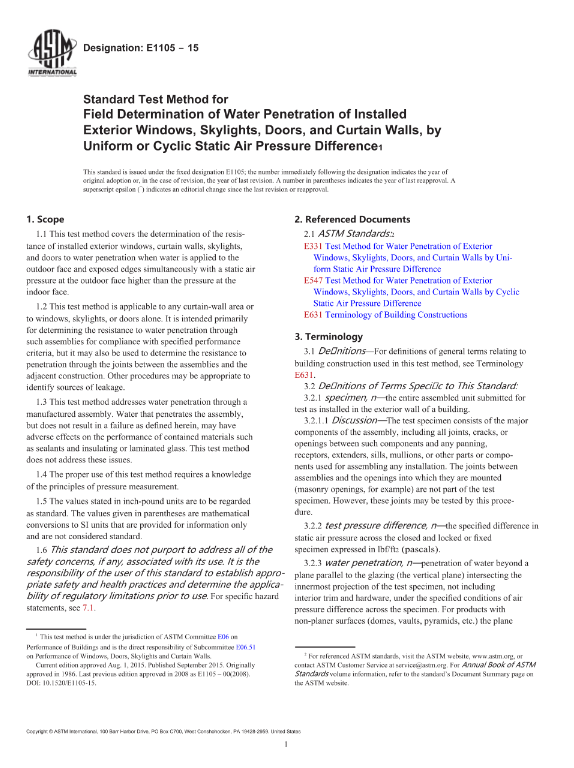 $39.90
Standard Test Method for Field Determination of Water Penetration of Installed Exterior Windows, Skylights, Doors, and Curtain Walls, by Uniform or Cyclic Static Air Pressure Difference
Includes all amendments and changes through Reapproval Notice , 2023
Published by ASTM International, 01/01/2023
Description
ASTM E1105, 2015 Edition – Standard Test Method for Field Determination of Water Penetration of Installed Exterior Windows, Skylights, Doors, and Curtain Walls, by Uniform or Cyclic Static Air Pressure Difference
ASTM E1105, 2015 Edition, 2023 – Standard Test Method for Field Determination of Water Penetration of Installed Exterior Windows, Skylights, Doors, and Curtain Walls, by Uniform or Cyclic Static Air Pressure Difference
This test method covers the determination of the resistance of installed exterior windows, curtain walls, skylights, and doors to water penetration when water is applied to the outdoor face and exposed edges simultaneously with a static air pressure at the outdoor face higher than the pressure at the indoor face.
This test method is applicable to any curtain-wall area or to windows, skylights, or doors alone. It is intended primarily for determining the resistance to water penetration through such assemblies for compliance with specified performance criteria, but it may also be used to determine the resistance to penetration through the joints between the assemblies and the adjacent construction. Other procedures may be appropriate to identify sources of leakage.
This test method addresses water penetration through a manufactured assembly. Water that penetrates the assembly, but does not result in a failure as defined herein, may have adverse effects on the performance of contained materials such as sealants and insulating or laminated glass. This test method does not address these issues.
The proper use of this test method requires a knowledge of the principles of pressure measurement.
The values stated in inch-pound units are to be regarded as standard. The values given in parentheses are mathematical conversions to SI units that are provided for information only and are not considered standard.
This standard does not purport to address all of the safety concerns, if any, associated with its use. It is the responsibility of the user of this standard to establish appropriate safety, health, and environmental practices and determine the applicability of regulatory limitations prior to use. For specific hazard statements, see 7.1.
This international standard was developed in accordance with internationally recognized principles on standardization established in the Decision on Principles for the Development of International Standards, Guides and Recommendations issued by the World Trade Organization Technical Barriers to Trade (TBT) Committee.
General Product Information:
ASTM Volume
04.11: Building Constructions (I): E72 – E2166
Volumes 04.11 and 04.12 cover standards for measuring the performance of buildings, including: air leakage and ventilation; building economics; building preservation; durability of building constructions; structural performance; exterior insulation and finish systems; lead hazards; and roof systems, windows, and doors.
Volume 04.12 includes standards on sustainability, including the design, construction, and operation of green buildings and environmental life cycle assessment. It also provides the latest specifications for the evaluation and selection of exhibits for environmentally sustainable meetings, events, trade shows, and conferences.
This volume also provides standards for designing and implementing efficient and cost-effective personal asset management systems. These standards encompass the entire life cycle of personal property and establish the guiding principles of asset management, including administrative control of assets; physical inventory; and the assessment of loss, damage, and destruction.
Volume 04.12 also covers standards on technology and underground utilities that cover rehabilitation of sewers using chemical grouting techniques, seismic fragility of water conveyance systems, deployment of optical fiber systems in natural gas pipelines.