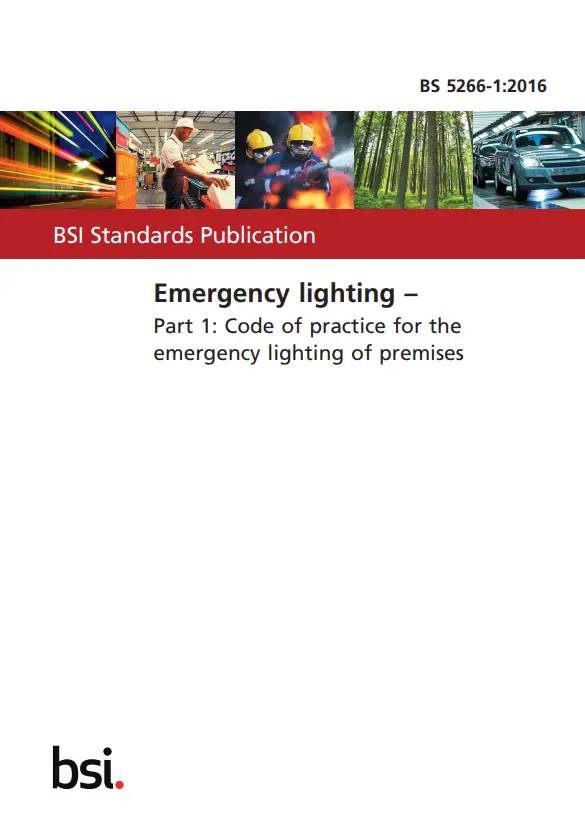 $266.00
Emergency lighting – Part 1: Code of practice for the emergency escape lighting of premises
16th Edition
Published by British Standards Institution, May 24, 2021
Description
BS 5266-1 Emergency lighting – Part 1: Code of practice for the emergency escape lighting of premises.
BS 5266-1 gives recommendations and guidance on the factors that need to be considered in the design of, and the installation and wiring of, electrical emergency escape lighting systems, in order to provide the lighting performance needed for safe movement of people in the event of the supply to normal lighting failing. It also gives recommendations for lighting in areas with fixed seating.
This is a full revision of the standard
It has been updated to assist those engineers wishing to protect occupants from the hazards identified by risk assessments and also to evaluate existing premises to decide if they need to be upgraded to meet current requirements. The standard has also been expanded to give guidance to protect occupants from a sudden loss of the normal lighting supply.
The aim of BS 5266-1 is to promote wider understanding of the different types of emergency lighting system which may be employed, and to give guidance on their correct application to the varied requirements of different categories of premises.
The recommendations given in this standard have been drawn up to encourage uniformity of application, based on providing adequate safety to people in the event of interruption of the normal lighting, and having due regard to the hazard level and degree of familiarity of occupants with particular premises.
The standard recognizes that, in addition to ensuring safe unobstructed means of escape from the premises at all times, an important function of emergency lighting is to make possible the immediate location and operation of fire alarm call points and fire-fighting equipment, and another is to minimize the chance of panic arising in enclosed spaces, such as lifts.
General Product Information:
| | |
| --- | --- |
| Revision | 16th Edition, May 24, 2021 |
| Document Type | PDF |
| Document Language | English |
| ISBN | 978 0 580 79094 2 |
| Pages | 74 |
| Publisher | British Standards Institution (BSI) |
| Status | Current |
| Purchase Note | All current amendments available at time of purchase are included with the purchase of this document. |
Preview
Cross References
BS 4678-4
BS 5499-4:2013
BS 5499-10:2014
BS 7273-4
BS 7629-1
BS 7846
BS 8434-2
BS 8519
BS 8592
BS EN 81-20
BS EN 1838
BS EN 50171
BS EN 50172
BS 5266-8
BS EN 50200:2015
BS EN 60529
BS EN 60598-2-22:2014
BS EN 60702-1
BS EN 60702-2
BS EN 61386
BS EN ISO 7010:2012+A5:2015
BS ISO 3864-4:2011
IEC 60331-3
BS 5266-2
BS 5266-4
BS 5266-5
BS 5266-6
BS 7671
BS 9999
BS EN 12193
BS EN 13032-3
BS EN 60079-14
BS EN 61347-2-7
BS EN 62034
BS EN ISO 9001
BS ISO 3864-1:2011
HD 384
HD 60364
PAS 79