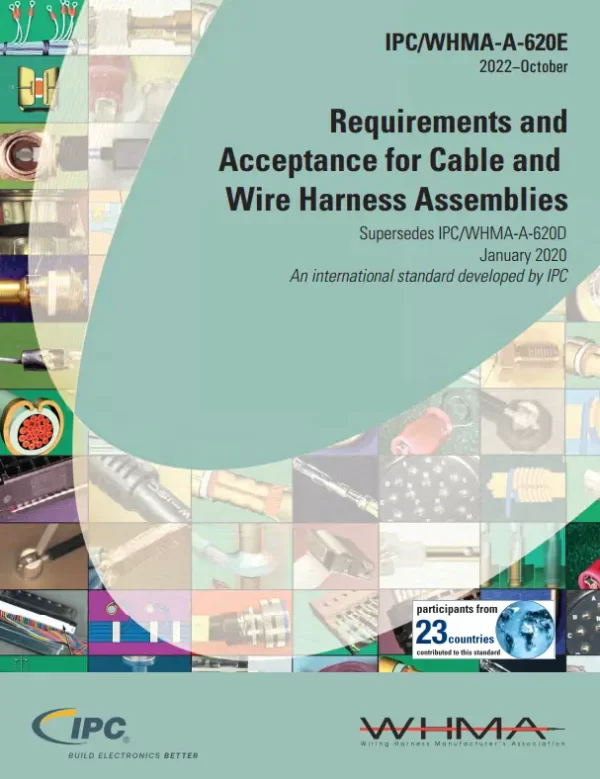 $196.00
Requirements and Acceptance for Cable and Wire Harness Assemblies
Revision E
Published by IPC International, 10/01/2022
Description
IPC A 620, Revision E – Requirements and Acceptance for Cable and Wire Harness Assemblies
This standard prescribes practices and requirements for the manufacture of cable, wire and harness assemblies. This standard does not provide criteria for cross-section or X-ray evaluation. For X-ray guidelines, see Appendix D X-Ray Guidelines.
If a conflict occurs between the English and translated versions of this document, the English version will take precedence.
The illustrations in this document portray specific points noted in the title of each section. The development committee recognizes that different parts of the industry have different definitions for some terms used herein. For the purposes of this document, the terms cable and wire harness are used interchangeably.
IPC/WHMA-A-620 can be used as a stand-alone document for purchasing products, however it does not specify frequency of in-process inspection or frequency of end product inspection. No limit is placed on the number of process indicators or the number of allowable repair/rework of defects. Such information should be developed with a statistical process control plan (see IPC-9191).
Purpose
This standard describes materials, methods, tests and acceptability criteria for producing crimped, mechanically secured, or soldered interconnections and the related assembly activities associated with cable and harness assemblies.
The intent of this document is to rely on process control methodology to ensure consistent quality levels during the manufacture of products.
Any method that produces an assembly conforming to the acceptability requirements described in this standard may be used.
Standards may be updated at any time, including with the use of amendments. The use of an amendment or newer revision is not automatically required. The revision in effect shall [D1D2D3] be as specified by the User.
Revision E has undergone significant changes to the standard, per industry needs. The standards development committee for IPC WHMA-A-620:
• adopted a new chaptering system for the entire document
• added new figures
• updated several sections of the standard. In particular, the alignment of soldering requirements with IPC J-STD-001, Requirements for Soldered Electrical and Electronic Assemblies. The Circular Mill Area was revised and terms and definitions in Appendix A were updated.
General Product Information:
| | |
| --- | --- |
| Revision | Revision E |
| Document Type | PDF |
| Document Language | English |
| ISBN | 9781638161028 |
| Pages | 388 |
| Publisher | IPC International (IPC) |
| Status | Current |
Preview
Document History