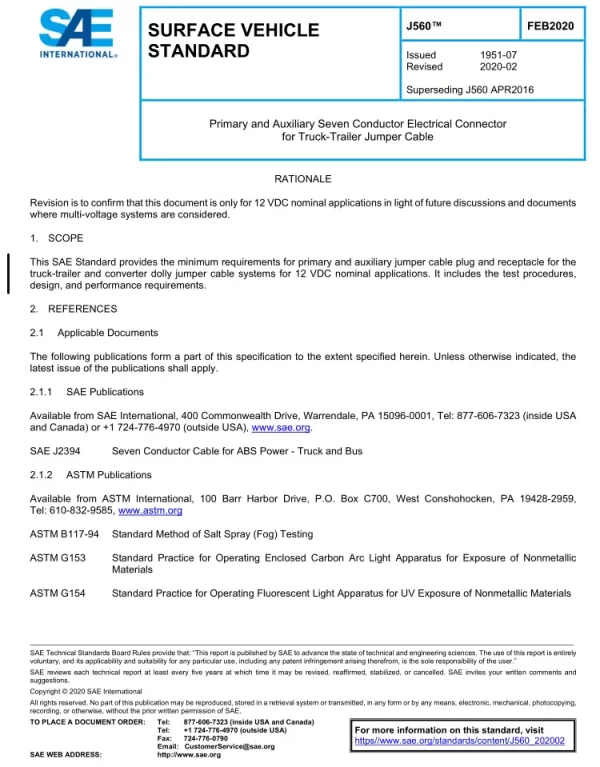 $59.00
Primary and Auxiliary Seven Conductor Electrical Connector for Truck-Trailer Jumper Cable
2020 Edition
Published by SAE International, 02/25/2020
Description
SAE J560, 2020 Edition – Primary and Auxiliary Seven Conductor Electrical Connector for Truck-Trailer Jumper Cable
SAE J560 is a standard issued by the Society of Automotive Engineers (SAE) that defines the electrical connector and wiring standards for heavy-duty, commercial trailers. This standard was first published in 1978 and has been updated several times since then.
The SAE J560 standard specifies a 7-way connector that is used to provide power and signal connections between the towing vehicle and the trailer. The connector includes seven pins, each of
which is assigned a specific function:
Left turn signal and brake light
Auxiliary or reverse light
Ground
Right turn signal and brake light
Electric brake control
Tail, license, and clearance lights
12-volt auxiliary power
The standard also specifies the color coding of the wires and the minimum wire size for each function. This ensures that the connector and wiring used in heavy-duty trailers are compatible with the towing vehicles and meet the necessary safety requirements.
SAE J560 is widely used in North America for heavy-duty trailers, including commercial trucks, buses, and other large vehicles. The standard ensures that the electrical connections between the towing vehicle and the trailer are reliable and consistent, which is essential for safe operation of these vehicles on the road.
General Product Information:
| | |
| --- | --- |
| Revision | 2020 Edition |
| Document Type | PDF |
| Document Language | English |
| Pages | 17 |
| Publisher | SAE International (SAE) |
| Status | Current |
Preview