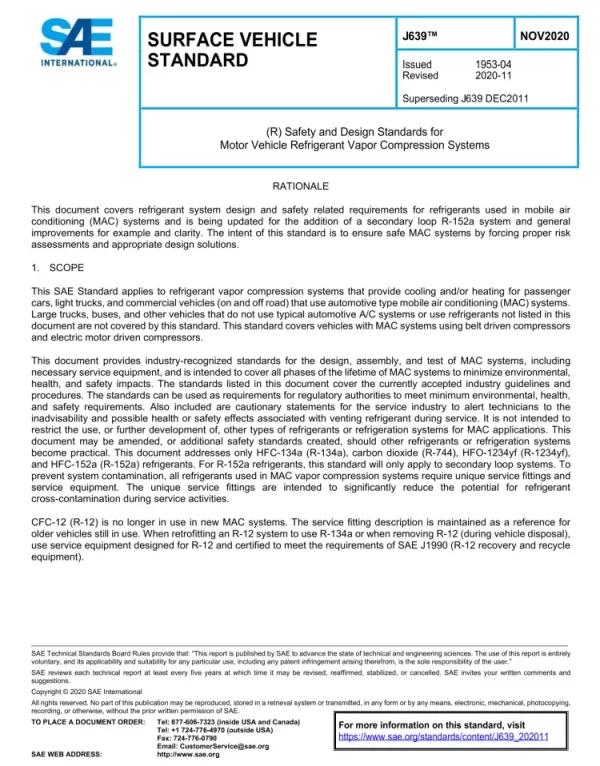 $79.00
Safety and Design Standards for Motor Vehicle Refrigerant Vapor Compression Systems
Published by SAE International, 11/09/2021
Description
SAE J639, 2020 Edition – Safety and Design Standards for Motor Vehicle Refrigerant Vapor Compression Systems
This SAE Standard applies to refrigerant vapor compression systems that provide cooling and/or heating for passenger cars, light trucks, and commercial vehicles (on and off road) that use automotive type mobile air conditioning (MAC) systems. Large trucks, buses, and other vehicles that do not use typical automotive A/C systems or use refrigerants not listed in this document are not covered by this standard. This standard covers vehicles with MAC systems using belt driven compressors and electric motor driven compressors.
SAE J639 provides industry-recognized standards for the design, assembly, and test of MAC systems, including necessary service equipment, and is intended to cover all phases of the lifetime of MAC systems to minimize environmental, health, and safety impacts. The standards listed in this document cover the currently accepted industry guidelines and procedures. The standards can be used as requirements for regulatory authorities to meet minimum environmental, health, and safety requirements. Also included are cautionary statements for the service industry to alert technicians to the inadvisability and possible health or safety effects associated with venting refrigerant during service. It is not intended to restrict the use, or further development of, other types of refrigerants or refrigeration systems for MAC applications. This document may be amended, or additional safety standards created, should other refrigerants or refrigeration systems become practical. This document addresses only HFC-134a (R-134a), carbon dioxide (R-744), HFO-1234yf (R-1234yf), and HFC-152a (R-152a) refrigerants. For R-152a refrigerants, this standard will only apply to secondary loop systems. To prevent system contamination, all refrigerants used in MAC vapor compression systems require unique service fittings and service equipment. The unique service fittings are intended to significantly reduce the potential for refrigerant cross-contamination during service activities.
CFC-12 (R-12) is no longer in use in new MAC systems. The service fitting description is maintained as a reference for older vehicles still in use. When retrofitting an R-12 system to use R-134a or when removing R-12 (during vehicle disposal), use service equipment designed for R-12 and certified to meet the requirements of SAE J1990 (R-12 recovery and recycle equipment).
General Product Information:
| | |
| --- | --- |
| Revision | 2020 Edition |
| Document Type | PDF |
| Document Language | English |
| Pages | 26 |
| Publisher | SAE International (SAE) |
| Status | Current |
Preview