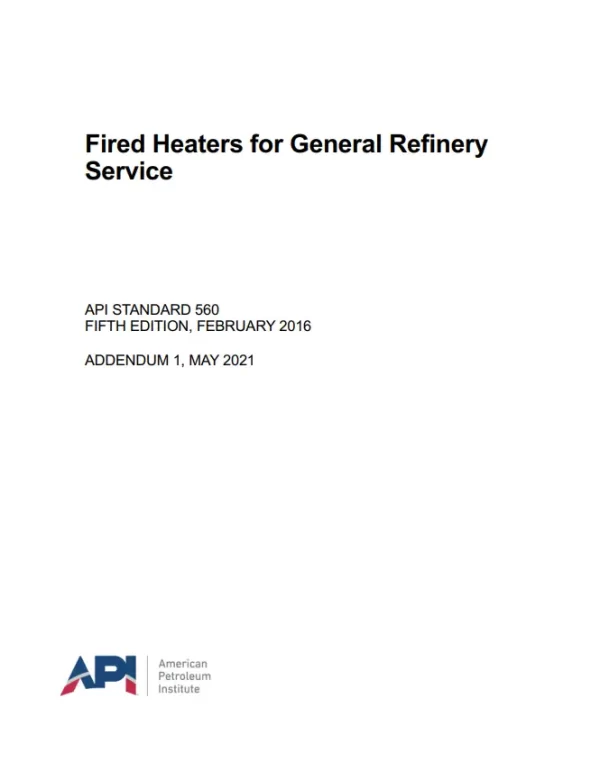 $239.00
Fired Heaters for General Refinery Service
5th Edition
Includes all amendments and changes through Addendum 1, May 2021
Published by American Petroleum Institute, 02/01/2016
Description
API 560, 5th Edition – Fired Heaters for General Refinery Service
API 560 is a standard published by the American Petroleum Institute (API) that provides guidelines for the design, construction, inspection, testing, and operation of fired heaters used in the oil and gas industry. Fired heaters are equipment used to heat process fluids in various industrial applications, including refineries, chemical plants, and power generation facilities.
API 560 covers a wide range of aspects related to fired heaters, including their design and construction, materials selection, burner management systems, combustion air systems, and instrumentation and controls. The standard also provides guidance on the inspection and maintenance of fired heaters, as well as their decommissioning and removal from service.
Fired heaters play a critical role in the oil and gas industry, as they are used in various processes such as crude oil distillation, hydrogen production, and sulfur recovery. The safe and reliable operation of fired heaters is therefore essential to ensure the continued production of oil and gas products and to minimize the risk of accidents or equipment failures.
By providing guidelines and best practices for the design, construction, and operation of fired heaters, API 560 helps to ensure that these important pieces of equipment are built and maintained to the highest standards of safety and reliability.
General Product Information:
Preview
Document History