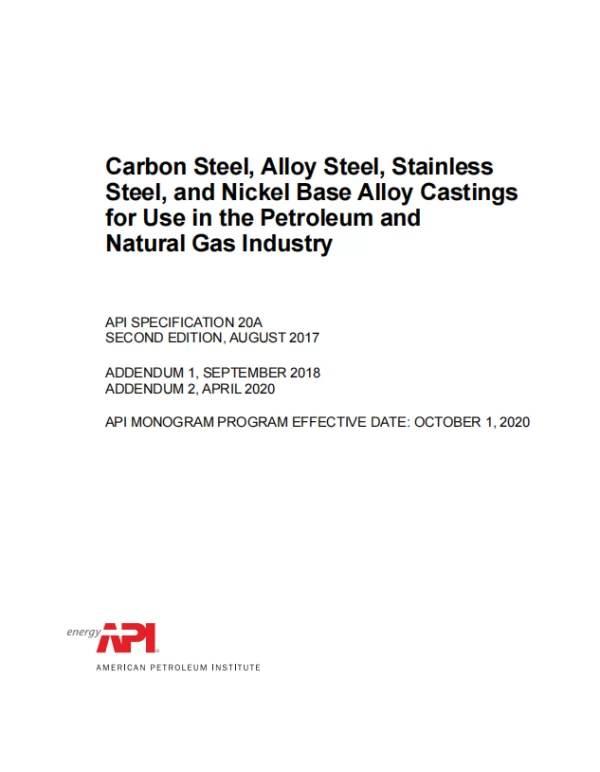 $67.90
Carbon Steel, Alloy Steel, Stainless Steel, and Nickel Base Alloy Castings for Use in the Petroleum and Natural Gas Industry
Includes all amendments and changes through Addendum 2, April 2020
Published by American Petroleum Institute, 07/31/2017
Description
API 20A,August 2017 – Carbon Steel, Alloy Steel, Stainless Steel, and Nickel Base Alloy Castings for Use in the Petroleum and Natural Gas Industry
API 20A identifies requirements for the foundry qualification, production, design, marking and documentation of carbon steel, alloy steel, stainless steel, and nickel-base alloy castings used in the petroleum and natural gas industries when referenced by an applicable API product standard or otherwise specified as a requirement for compliance.
API 20A applies to castings used in the manufacture of pressure containing, pressure-controlling, and primary load-bearing components. Castings manufactured in accordance with this API Standard may be produced using any industry standard casting method.
This specification provides manufacturers with a fixed methodology to examine a qualification casting and to compare the results of that examination to a defined set of acceptance criteria. The results of the qualification testing by material grouping are then used to establish a baseline Casting Specification Level (CSL) for subsequently produced castings.
This specification also provides manufacturers with a fixed production testing methodology to determine if subsequently produced castings conform to the minimum requirements for the intended CSL. The intent is that the production castings meet the minimum CSL requirements established during qualification testing by material grouping and/or the minimum CSL specified by the purchaser.
If product is supplied bearing the API Monogram and manufactured at a facility licensed by API, the requirements of Annex A apply.
General Product Information:
Preview
Document History