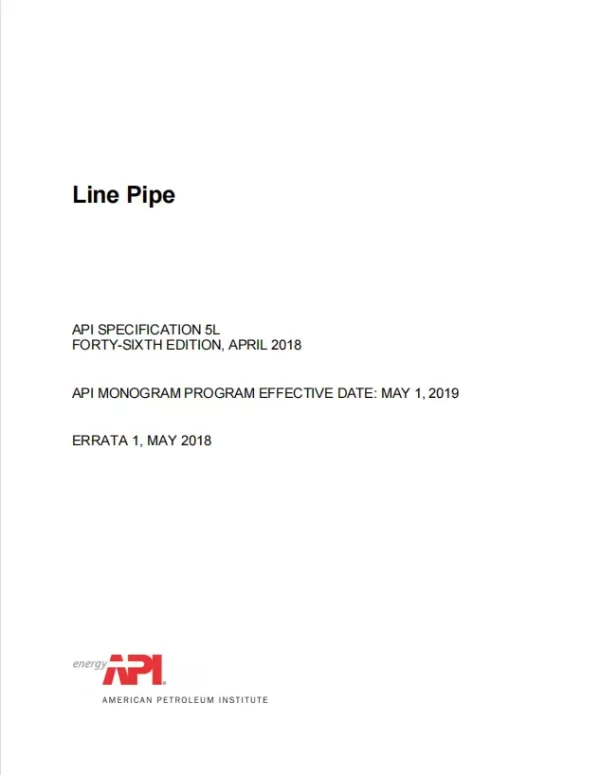 $222.00
Specification for Line Pipe
Forty-sixth Edition
Includes all amendments and changes through Errata , May 2018
Published by American Petroleum Institute, 04/01/2018
Description
API SPEC 5L, 46th Edition – Line Pipe
This specification specifies requirements for the manufacture of two product specification levels (PSL 1 and PSL 2) of seamless and welded steel pipes for use in pipeline transportation systems in the petroleum and natural gas industries. This specification is not applicable to cast pipe.
Changes from the previous edition include the following:
updated and expanded requirements for mill jointers (differentiate between double-jointers and mill jointers; avoid welding consumables environmental contamination; require qualification standards; new process testing requirements; clarify offset and undercut requirements; standardize marking requirements; reference weld repair annex);
updated requirements for pipe end squareness; updated requirements for hardness testing on PSL 2 pipe for sour service and PSL 2 pipe for offshore service;
a new annex for strain-based design requirements (PSL 2 pipe for applications requiring longitudinal plastic strain capacity).
General Product Information:
Preview
Document History