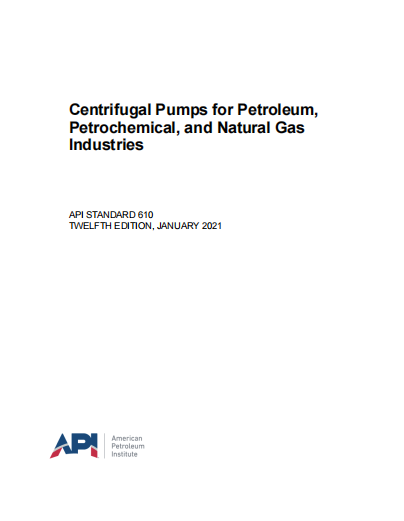 $126.00
Centrifugal Pumps for Petroleum, Petrochemical, and Natural Gas Industries
Twelfth Edition
Published by American Petroleum Institute, 01/01/2021
Description
API 610, 12th Edition – Centrifugal Pumps for Petroleum, Petrochemical, and Natural Gas Industries
API 610 specifies requirements for centrifugal pumps, including pumps running in reverse as hydraulic power recovery turbines (HPRTs), for use in petroleum, petrochemical, and gas industry process services.
API 610 is applicable to overhung pumps, between-bearings pumps, and vertically suspended pumps (see Table 1). Section 9 provides requirements applicable to specific types of pumps. All other sections of this standard are applicable to all pump types. Illustrations are provided of the various specific pump types and the designations assigned to each specific type.
Relevant industry operating experience suggests pumps produced to this standard are suitable for pumping liquids at conditions exceeding any one of the following:
— discharge pressure (gauge): 275 psi; 19.0 bar (1900 kPa);
— suction pressure (gauge): 75 psi; 5.0 bar (500 kPa);
— pumping temperature: 300 °F (150 °C);
— rotational speed: 3600 r/min;
— rated total head: 400 ft (120 m);
— impeller diameter, overhung pumps 13 in. (330 mm).
NOTE For sealless pumps, reference can be made to API 685.
General Product Information:
Preview