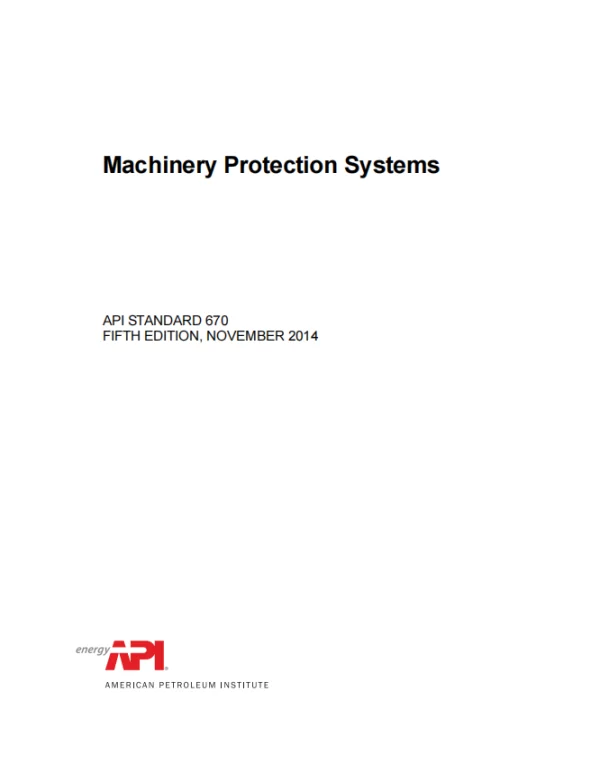 $150.00
Machinery Protection Systems
Includes all amendments and changes through Reaffirmation Notice , March 2022
Published by American Petroleum Institute, 11/01/2014
Description
API STD 670, November 2014 – Machinery Protection Systems
General
API 670 covers the minimum requirements for a machinery protection system (MPS) measuring radial shaft vibration, casing vibration, shaft axial position, shaft rotational speed, piston rod drop, phase reference, overspeed, surge detection, and critical machinery temperatures (such as bearing metal and motor windings). It covers requirements for hardware (transducer and monitor systems), installation, documentation, and testing.
NOTE A bullet (•) at the beginning of a subsection or paragraph indicates that either a decision is required or further information is to be provided by the purchaser. This information should be indicated on the datasheets (see Annex A); otherwise, it should be stated in the quotation request or in the order.
Alternative Designs
The MPS vendor may offer alternative designs. Equivalent metric dimensions and fasteners may be substituted as mutually agreed upon by the purchaser and the vendor.
Conflicting Requirements
In case of conflict between this standard and the inquiry or order, the information included in the order shall govern.
General Product Information:
Preview
Document History