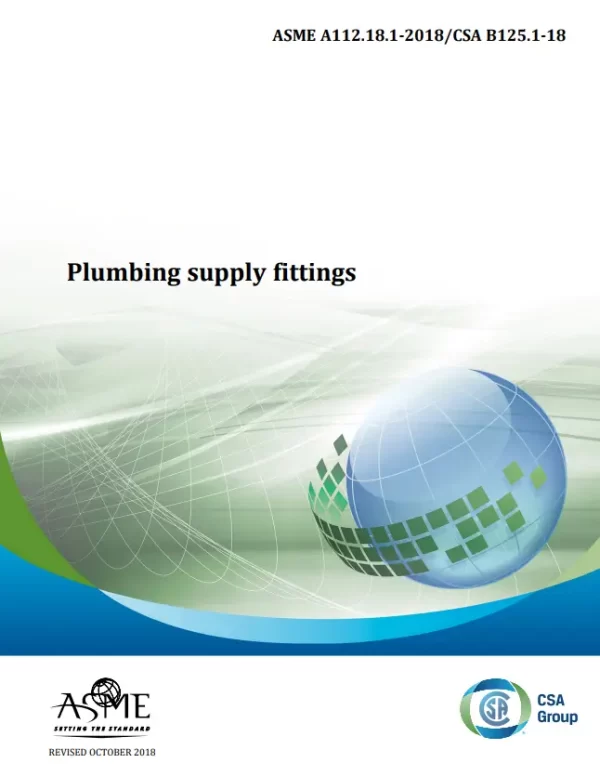 $89.00
Plumbing Supply Fittings
2018 Edition
Includes all amendments and changes through Errata , October 2018
Published by ASME International, 07/01/2018
Description
ASME A112.18.1, 2018 Edition – Plumbing supply fittings
ASME A112.18.1 is a standard developed by the American Society of Mechanical Engineers (ASME) that covers the design, construction, and performance of plumbing waste fittings. The standard applies to a wide range of waste fittings used in plumbing systems, including traps, cleanouts, floor drains, and other types of fittings that are designed to transport wastewater and other liquids away from plumbing fixtures.
ASME A112.18.1 establishes minimum requirements for the materials, dimensions, performance, and testing of plumbing waste fittings. The standard includes detailed specifications for the design and construction of each type of fitting, as well as performance criteria for factors such as water flow, drainage, and air pressure resistance.
The purpose of ASME A112.18.1 is to ensure that plumbing waste fittings are manufactured to consistent and reliable standards, which helps to ensure the safety and performance of plumbing systems. The standard is widely used by plumbing manufacturers, designers, and contractors in the United States and other countries. Compliance with the standard is often required by building codes and other regulatory bodies.
Scope
This Standard covers plumbing supply fittings and accessories located between the supply stop and the terminal fitting, inclusive, as follows:
a) automatic compensating valves for individual wall-mounted showering systems;
b) bath and shower supply fittings;
c) bidet supply fittings;
d) clothes washer supply fittings;
e) commercial pre-rinse spray valves;
f) drinking fountain supply fittings;
g) humidifier supply stops;
h) kitchen, sink, and lavatory supply fittings;
i) laundry tub supply fittings;
j) lawn and sediment faucets;
k) low-pressure water dispensers;
l) metering and self-closing supply fittings;
m) showerheads, hand-held showers, and body sprays; and
n) supply stops.
General Product Information:
Preview