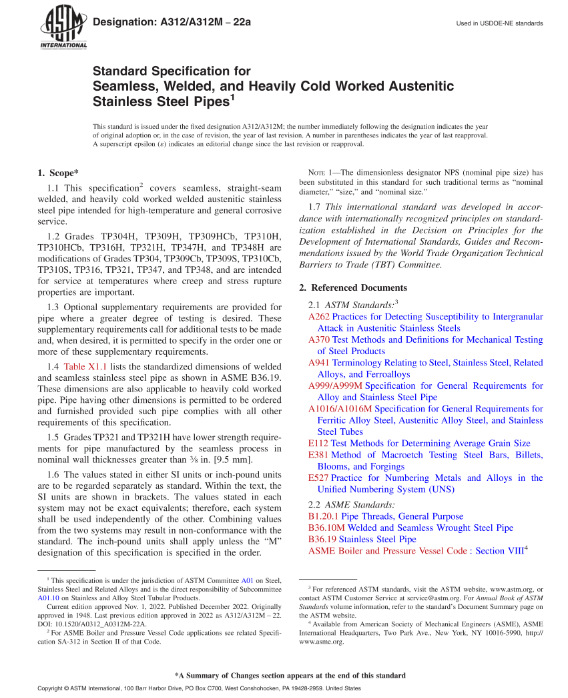 $44.00
Standard Specification for Seamless, Welded, and Heavily Cold Worked Austenitic Stainless Steel Pipes
Revision 22A
Published by ASTM International, 11/01/2022
Description
ASTM A312/A312M, Revision 22A – Standard Specification for Seamless, Welded, and Heavily Cold Worked Austenitic Stainless Steel Pipes
This specification2 covers seamless, straight-seam welded, and heavily cold worked welded austenitic stainless steel pipe intended for high-temperature and general corrosive service.
Grades TP304H, TP309H, TP309HCb, TP310H, TP310HCb, TP316H, TP321H, TP347H, and TP348H are modifications of Grades TP304, TP309Cb, TP309S, TP310Cb, TP310S, TP316, TP321, TP347, and TP348, and are intended for service at temperatures where creep and stress rupture properties are important.
Optional supplementary requirements are provided for pipe where a greater degree of testing is desired. These supplementary requirements call for additional tests to be made and, when desired, it is permitted to specify in the order one or more of these supplementary requirements.
Table X1.1 lists the standardized dimensions of welded and seamless stainless steel pipe as shown in ASME B36.19. These dimensions are also applicable to heavily cold worked pipe. Pipe having other dimensions is permitted to be ordered and furnished provided such pipe complies with all other requirements of this specification.
Grades TP321 and TP321H have lower strength requirements for pipe manufactured by the seamless process in nominal wall thicknesses greater than 3⁄8 in. [9.5 mm].
The values stated in either SI units or inch-pound units are to be regarded separately as standard. Within the text, the SI units are shown in brackets. The values stated in each system may not be exact equivalents; therefore, each system shall be used independently of the other. Combining values from the two systems may result in non-conformance with the standard. The inch-pound units shall apply unless the "M" designation of this specification is specified in the order.
NOTE 1—The dimensionless designator NPS (nominal pipe size) has been substituted in this standard for such traditional terms as "nominal diameter," "size," and "nominal size."
This international standard was developed in accordance with internationally recognized principles on standardization established in the Decision on Principles for the Development of International Standards, Guides and Recommendations issued by the World Trade Organization Technical Barriers to Trade (TBT) Committee.
2 For ASME Boiler and Pressure Vessel Code applications see related Specification SA-312 in Section II of that Code.
General Product Information:
| | |
| --- | --- |
| Revision | Revision 22A |
| Document Type | PDF |
| Document Language | English |
| Pages | 13 |
| Publisher | ASTM International (ASTM) |
| Status | Current |
Preview
ASTM Volume
01.01: Steel–Piping, Tubing, Fittings
Featuring standards for steel pipe that requires high-temperature service, ordinary use, and other special applications, included are specifications on steel tubes for boiler and superheater tubes, general service tubes, still tubes in refinery service, heat exchanger and condenser tubes, mechanical tubing, and structural tubing. Steel casting specifications address standard properties for valves, flanges, fittings, and other pressure containing parts for high-temperature and low-temperature service.