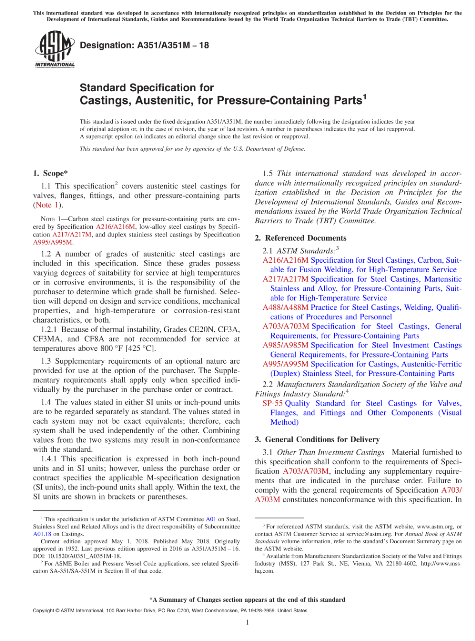 $39.90
Standard Specification for Castings, Austenitic, for Pressure-Containing Parts
Includes all amendments and changes through Editorial Change 1, August 2019
Published by ASTM International, 05/01/2018
Description
ASTM A351/A351M, 2018 Edition – Standard Specification for Castings, Austenitic, for Pressure-Containing Parts
This specification2 covers austenitic steel castings for valves, flanges, fittings, and other pressure-containing parts (Note 1).
NOTE 1—Carbon steel castings for pressure-containing parts are covered by Specification A216/A216M, low-alloy steel castings by Specification A217/A217M, and duplex stainless steel castings by Specification A995/A995M.
A number of grades of austenitic steel castings are included in this specification. Since these grades possess varying degrees of suitability for service at high temperatures or in corrosive environments, it is the responsibility of the purchaser to determine which grade shall be furnished. Selection will depend on design and service conditions, mechanical properties, and high-temperature or corrosion-resistant characteristics, or both.
Because of thermal instability, Grades CE20N, CF3A, CF3MA, and CF8A are not recommended for service at temperatures above 800 °F [425 °C].
Supplementary requirements of an optional nature are provided for use at the option of the purchaser. The Supplementary requirements shall apply only when specified individually by the purchaser in the purchase order or contract.
The values stated in either SI units or inch-pound units are to be regarded separately as standard. The values stated in each system may not be exact equivalents; therefore, each system shall be used independently of the other. Combining values from the two systems may result in non-conformance with the standard.
This specification is expressed in both inch-pound units and in SI units; however, unless the purchase order or contract specifies the applicable M-specification designation (SI units), the inch-pound units shall apply.Within the text, the SI units are shown in brackets or parentheses.
This international standard was developed in accordance with internationally recognized principles on standardization established in the Decision on Principles for the Development of International Standards, Guides and Recommendations issued by the World Trade Organization Technical Barriers to Trade (TBT) Committee.
2 For ASME Boiler and Pressure Vessel Code applications, see related Specification SA-351/SA-351M in Section II of that code.
General Product Information:
ASTM Volume
01.02: Ferrous Castings; Ferroalloys
Volume 01.02 includes standards that describe the property requirements of steel castings used for general applications, structural purposes, and high-temperature and low-temperature service. It also features alloy-casting specifications for castings made of nickel and chromium alloys.
Other standards detail the property and testing requirements for gray and white iron castings, cast iron pipe and fittings, and ductile iron castings.
This volume also includes standards on radiographic examination of castings to be used with ASTM's standard reference radiographs.