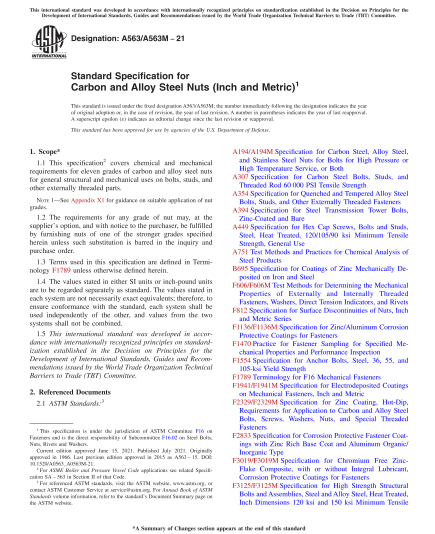 $44.00
Standard Specification for Carbon and Alloy Steel Nuts (Inch and Metric)
Includes all amendments and changes through Editorial Change 1, March 2022
Published by ASTM International, 07/26/2021
Description
ASTM A563/A563M, Revision 21A – Standard Specification for Carbon and Alloy Steel Nuts (Inch and Metric)
This specification2 covers chemical and mechanical requirements for eleven grades of carbon and alloy steel nuts for general structural and mechanical uses on bolts, studs, and other externally threaded parts.
NOTE 1—See Appendix X1 for guidance on suitable application of nut grades.
The requirements for any grade of nut may, at the supplier's option, and with notice to the purchaser, be fulfilled by furnishing nuts of one of the stronger grades specified herein unless such substitution is barred in the inquiry and purchase order.
Terms used in this specification are defined in Terminology F1789 unless otherwise defined herein.
The values stated in either SI units or inch-pound units are to be regarded separately as standard. The values stated in each system are not necessarily exact equivalents; therefore, to ensure conformance with the standard, each system shall be used independently of the other, and values from the two systems shall not be combined.
This international standard was developed in accordance with internationally recognized principles on standardization established in the Decision on Principles for the Development of International Standards, Guides and Recommendations issued by the World Trade Organization Technical Barriers to Trade (TBT) Committee.
2 For ASME Boiler and Pressure Vessel Code applications see related Specification SA – 563 in Section II of that Code.
General Product Information:
| | |
| --- | --- |
| Revision | Revision 21A |
| Document Type | PDF |
| Document Language | English |
| Pages | 12 |
| Publisher | ASTM International (ASTM) |
| Status | Current |
ASTM Volume
01.09: Fasteners; Rolling Element Bearings
This volume covers specifications for internally and externally threaded fasteners, and non-threaded driven fasteners. Also included are standards on rolling element bearings, establishing properties for bearings used in automotive and aerospace applications.