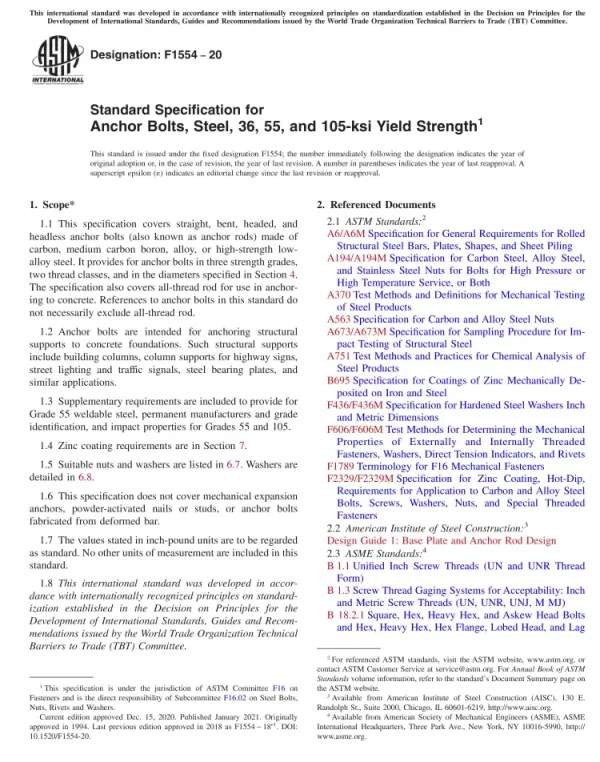 $39.90
Standard Specification for Anchor Bolts, Steel, 36, 55, and 105-ksi Yield Strength
2020 Edition
Published by ASTM International, 12/15/2020
Description
ASTM F1554, 2020 Edition – Standard Specification for Anchor Bolts, Steel, 36, 55, and 105-ksi Yield Strength
This specification covers straight, bent, headed, and headless anchor bolts (also known as anchor rods) made of carbon, medium carbon boron, alloy, or high-strength low-alloy steel. It provides for anchor bolts in three strength grades, two thread classes, and in the diameters specified in Section 4. The specification also covers all-thread rod for use in anchoring to concrete. References to anchor bolts in this standard do not necessarily exclude all-thread rod.
Anchor bolts are intended for anchoring structural supports to concrete foundations. Such structural supports include building columns, column supports for highway signs, street lighting and traffic signals, steel bearing plates, and similar applications.
Supplementary requirements are included to provide for Grade 55 weldable steel, permanent manufacturers and grade identification, and impact properties for Grades 55 and 105.
Zinc coating requirements are in Section 7.
Suitable nuts and washers are listed in 6.7. Washers are detailed in 6.8.
This specification does not cover mechanical expansion anchors, powder-activated nails or studs, or anchor bolts fabricated from deformed bar.
The values stated in inch-pound units are to be regarded as standard. No other units of measurement are included in this standard.
This international standard was developed in accordance with internationally recognized principles on standardization established in the Decision on Principles for the Development of International Standards, Guides and Recommendations issued by the World Trade Organization Technical Barriers to Trade (TBT) Committee.
General Product Information:
ASTM Volume
01.09: Fasteners; Rolling Element Bearings
This volume covers specifications for internally and externally threaded fasteners, and non-threaded driven fasteners. Also included are standards on rolling element bearings, establishing properties for bearings used in automotive and aerospace applications.