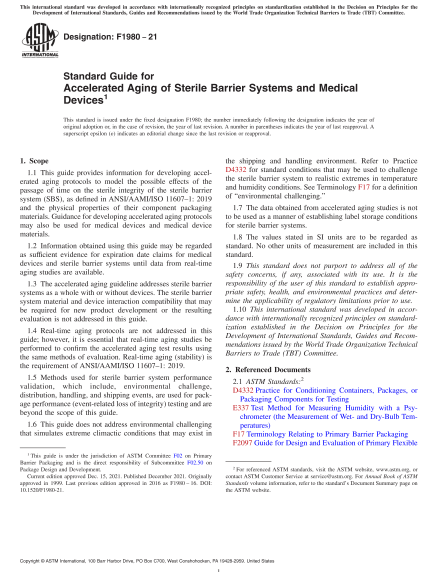 $39.90
Standard Guide for Accelerated Aging of Sterile Barrier Systems and Medical Devices
Published by ASTM International, 12/15/2021
Description
ASTM F1980, 2021 Edition – Standard Guide for Accelerated Aging of Sterile Barrier Systems and Medical Devices
This guide provides information for developing accelerated aging protocols to model the possible effects of the passage of time on the sterile integrity of the sterile barrier system (SBS), as defined in ANSI/AAMI/ISO 11607–1: 2019 and the physical properties of their component packaging materials. Guidance for developing accelerated aging protocols may also be used for medical devices and medical device materials.
Information obtained using this guide may be regarded as sufficient evidence for expiration date claims for medical devices and sterile barrier systems until data from real-time aging studies are available.
The accelerated aging guideline addresses sterile barrier systems as a whole with or without devices. The sterile barrier system material and device interaction compatibility that may be required for new product development or the resulting evaluation is not addressed in this guide.
Real-time aging protocols are not addressed in this guide; however, it is essential that real-time aging studies be performed to confirm the accelerated aging test results using the same methods of evaluation. Real-time aging (stability) is the requirement of ANSI/AAMI/ISO 11607–1: 2019.
Methods used for sterile barrier system performance validation, which include, environmental challenge, distribution, handling, and shipping events, are used for package performance (event-related loss of integrity) testing and are beyond the scope of this guide.
This guide does not address environmental challenging that simulates extreme climactic conditions that may exist in the shipping and handling environment. Refer to Practice D4332 for standard conditions that may be used to challenge the sterile barrier system to realistic extremes in temperature and humidity conditions. See Terminology F17 for a definition of "environmental challenging."
The data obtained from accelerated aging studies is not to be used as a manner of establishing label storage conditions for sterile barrier systems.
The values stated in SI units are to be regarded as standard. No other units of measurement are included in this standard.
This standard does not purport to address all of the safety concerns, if any, associated with its use. It is the responsibility of the user of this standard to establish appropriate safety, health, and environmental practices and determine the applicability of regulatory limitations prior to use.
This international standard was developed in accordance with internationally recognized principles on standardization established in the Decision on Principles for the Development of International Standards, Guides and Recommendations issued by the World Trade Organization Technical Barriers to Trade (TBT) Committee.
General Product Information:
ASTM Volume
15.10: Packaging; Primary Barrier Packaging; Cannabis
Packaging—performance of transport containers, pallets, crates; packaging materials such as tapes, cushioning, strapping, stretch warp and labels; package distribution and handling; measurement of transport packaging and distribution environment; reuse, recycling and disposal of materials related to packaging; performance of hazardous materials (dangerous goods) packaging.
Primary Barrier Packaging—child-resistant packaging and closure systems, food, consumer, pharmaceutical and medical device packaging; bottles, vials, pouches, blisters and trays; materials: papers, nonwovens, plastic films, rigid plastic, glass, and metal foils.
Cannabis—water activity in cannabis flower; security procedures for a cannabis operation; cleaning and sanitation; corrective and preventative action, product recall; hazard analysis and critical control points, disposal of raw materials; method validation, product complaints and compliance auditing