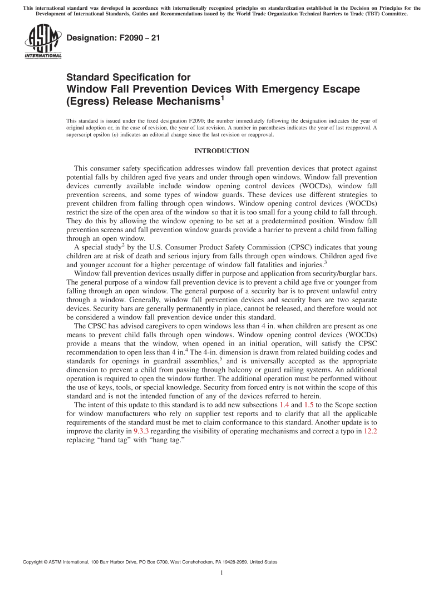 $39.90
Standard Specification for Window Fall Prevention Devices With Emergency Escape (Egress) Release Mechanisms
Published by ASTM International, 06/01/2021
Description
ASTM F2090, 2021 Edition – Standard Specification for Window Fall Prevention Devices With Emergency Escape (Egress) Release Mechanisms
This specification establishes requirements for devices intended to address the risk of injury and death associated with accidental falls through open windows by children five years old and younger.
This specification is not intended to meet the unique requirements of Americans With Disabilities Act (ADA).
This specification applies to window fall prevention devices, including window opening control devices (WOCDs), window fall prevention screens, and fall prevention window guards, that are to be used on operable windows, including those that are designated for emergency escape (egress) and rescue (ingress).
NOTE 1—A separate safety specification, Safety Specification F2006, covers window fall prevention devices for non-emergency escape (egress) and rescue (ingress) windows in installations more than 75 ft6 (23 m) above ground level in multiple family dwelling buildings since windows at these heights are beyond the reach of rescue ladders currently in use.
Window manufacturers who rely on a test report from the supplier of the window fall prevention device shall verify that the installation of the window fall prevention device (either installed by the window manufacturer prior to shipping of the window or provided by the window manufacturer as a field installed kit) on their specific window product operator type complies with this standard.
Partial compliance to this standard is not permitted. In order to claim compliance to this standard, all of the applicable requirements in the standard must be met.
The values stated in inch-pound units are to be regarded as standard. The values given in parentheses are mathematical conversions to SI units that are provided for information only and are not considered standard.
This standard does not purport to address all safety concerns, if any, associated with its use. It is the responsibility of the user of this standard to establish appropriate safety, health, and environmental practices and to determine the applicability of regulatory limitations prior to use.
This international standard was developed in accordance with internationally recognized principles on standardization established in the Decision on Principles for the Development of International Standards, Guides and Recommendations issued by the World Trade Organization Technical Barriers to Trade (TBT) Committee.
General Product Information:
| | |
| --- | --- |
| Revision | 2021 Edition |
| Document Type | PDF |
| Document Language | English |
| Pages | 16 |
| Publisher | ASTM International (ASTM) |
| Status | Current |
ASTM Volume
15.11: Consumer Products; Vacuum Cleaners
Business Imaging Products—test methods and practices cover carbonless, thermal, electrostatic, ink jet, and inked transfer imaging products.
Consumer Products—consumer safety specifications, guides, and performance requirements cover products such as public and home playground equipment, juvenile products, toys, furniture, candles, and pool safety.
Vacuum Cleaners—tests evaluate filtration efficiency, air performance characteristics, cleanability, durability, and reliability.