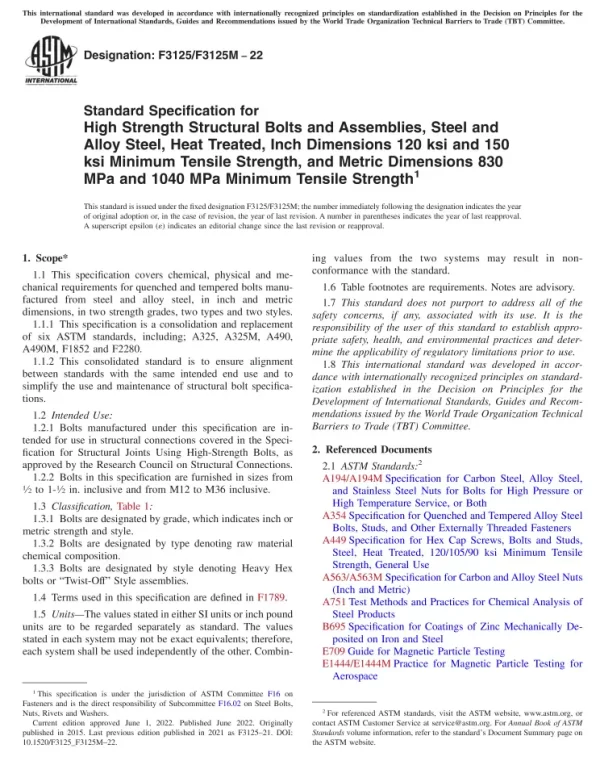 $44.00
Standard Specification for High Strength Structural Bolts and Assemblies, Steel and Alloy Steel, Heat Treated, Inch Dimensions 120 ksi and 150 ksi Minimum Tensile Strength, and Metric Dimensions 830 MPa and 1040 MPa Minimum Tensile Strength
2022 Edition
Published by ASTM International, 06/01/2022
Description
ASTM F3125/F3125M, 2022 Edition – High Strength Structural Bolts and Assemblies, Steel and Alloy Steel, Heat Treated, Inch Dimensions 120 ksi and 150 ksi Minimum Tensile Strength, and Metric Dimensions 830 MPa and 1040 MPa Minimum Tensile Strength
ASTM F3125 covers chemical, physical and mechanical requirements for quenched and tempered bolts manufactured from steel and alloy steel, in inch and metric dimensions, in two strength grades, two types and two styles.
This specification is a consolidation and replacement of six ASTM standards, including; A325, A325M, A490, A490M, F1852 and F2280.
This consolidated standard is to ensure alignment between standards with the same intended end use and to simplify the use and maintenance of structural bolt specifications.
Intended Use:
Bolts manufactured under this specification are intended for use in structural connections covered in the Specification for Structural Joints Using High-Strength Bolts, as approved by the Research Council on Structural Connections.
Bolts in this specification are furnished in sizes from 1⁄2 to 1-1⁄2 in. inclusive and from M12 to M36 inclusive.
Classification, Table 1:
Bolts are designated by grade, which indicates inch or metric strength and style.
Bolts are designated by type denoting raw material chemical composition.
Bolts are designated by style denoting Heavy Hex bolts or "Twist-Off" Style assemblies.
Terms used in this specification are defined in F1789.
Units—The values stated in either SI units or inch pound units are to be regarded separately as standard. The values stated in each system may not be exact equivalents; therefore, each system shall be used independently of the other. Combining values from the two systems may result in nonconformance with the standard.
Table footnotes are requirements. Notes are advisory.
This standard does not purport to address all of the safety concerns, if any, associated with its use. It is the responsibility of the user of this standard to establish appropriate safety, health, and environmental practices and determine the applicability of regulatory limitations prior to use.
This international standard was developed in accordance with internationally recognized principles on standardization established in the Decision on Principles for the Development of International Standards, Guides and Recommendations issued by the World Trade Organization Technical Barriers to Trade (TBT) Committee.
General Product Information:
| | |
| --- | --- |
| Revision | 2022 Edition |
| Document Type | PDF |
| Document Language | English |
| Pages | 14 |
| Publisher | ASTM International (ASTM) |
| Status | Current |
Preview
ASTM Volume
01.09: Fasteners; Rolling Element Bearings
This volume covers specifications for internally and externally threaded fasteners, and non-threaded driven fasteners. Also included are standards on rolling element bearings, establishing properties for bearings used in automotive and aerospace applications.