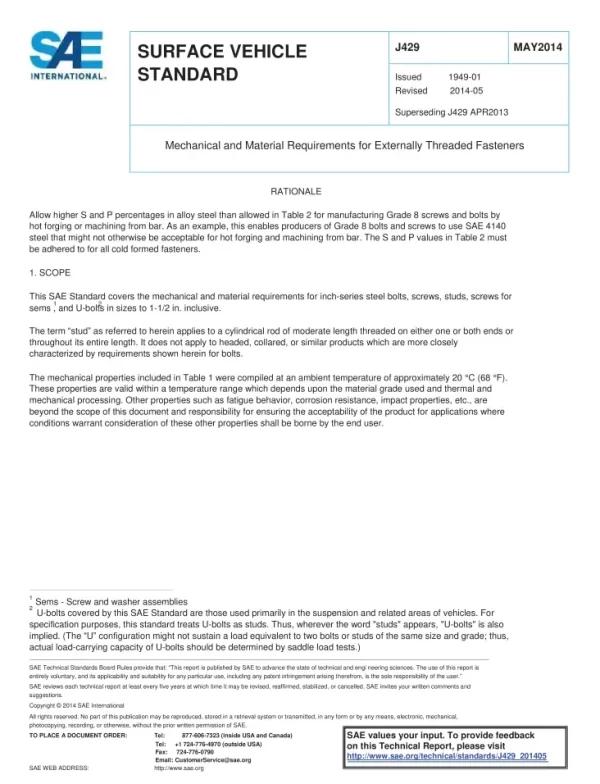 $59.00
Mechanical and Material Requirements for Externally Threaded Fasteners
2014 Edition
Published by SAE International, 05/07/2014
Description
SAE J429, 2014 Edition – Mechanical and Material Requirements for Externally Threaded Fasteners
This SAE Standard covers the mechanical and material requirements for inch-series steel bolts, screws, studs, screws for sems1, and U-bolts2 in sizes to 1-1/2 in. inclusive.
The term "stud" as referred to herein applies to a cylindrical rod of moderate length threaded on either one or both ends or throughout its entire length. It does not apply to headed, collared, or similar products which are more closely characterized by requirements shown herein for bolts.
The mechanical properties included in Table 1 were compiled at an ambient temperature of approximately 20 °C (68 °F). These properties are valid within a temperature range which depends upon the material grade used and thermal and mechanical processing. Other properties such as fatigue behavior, corrosion resistance, impact properties, etc., are beyond the scope of this document and responsibility for ensuring the acceptability of the product for applications where conditions warrant consideration of these other properties shall be borne by the end user.
1 Sems – Screw and washer assemblies
2 U-bolts covered by this SAE Standard are those used primarily in the suspension and related areas of vehicles. For specification purposes, this standard treats U-bolts as studs. Thus, wherever the word "studs" appears, "U-bolts" is also implied. (The "U" configuration might not sustain a load equivalent to two bolts or studs of the same size and grade; thus, actual load-carrying capacity of U-bolts should be determined by saddle load tests.)
General Product Information:
| | |
| --- | --- |
| Revision | 2014 Edition |
| Document Type | PDF |
| Document Language | English |
| Pages | 14 |
| Publisher | SAE International (SAE) |
| Status | Current |
Preview