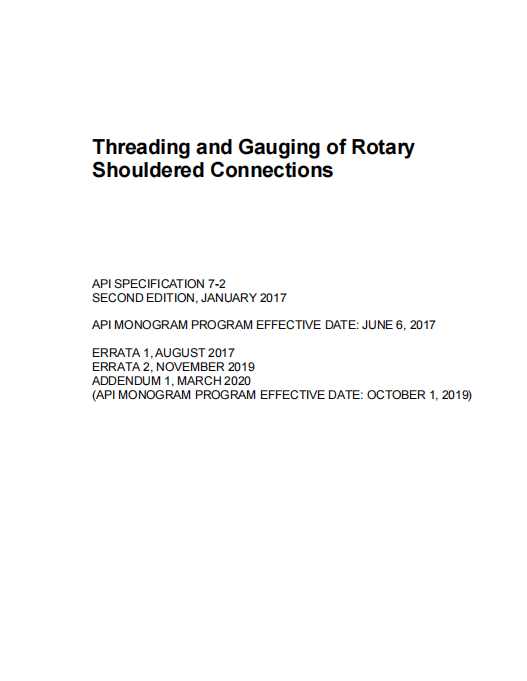 $133.00
Threading and Gauging of Rotary Shouldered Connections
2nd Edition
Includes all amendments and changes through Addendum 1, March 2020
Published by American Petroleum Institute, 01/01/2017
Description
API SPEC 7-2, 2nd Edition – Threading and Gauging of Rotary Shouldered Connections
Coverage
API 7-2 specifies the following requirements on rotary shouldered connections for use in petroleum and natural gas industries: dimensional requirements on threads and thread gauges, stipulations on gauging practice and gauge specifications, as well as instruments and methods for inspection of thread connections. These connections are intended primarily for use in drill-string components.
Other supplementary specifications can be agreed between interested parties for special tolerance requirements, qualification, testing, inspection, and finishing. This standard applies both to newly manufactured connections and connections that are recut after service. It should be realized that recut connections are subject to additional inspection and testing—the user is referred to API 7G-2 for such information.
API 7-2 is applicable to preferred rotary shouldered connection designs. These are traceable to an internationally supported system of gauges and calibration that can be described as number (NC) style, regular (REG) style, or full-hole (FH) style.
Application of the API Monogram
If the product (gauge) is manufactured at a facility licensed by API and, it is intended to be supplied bearing the API Monogram, the requirements of Annex A apply.
General Product Information:
Preview