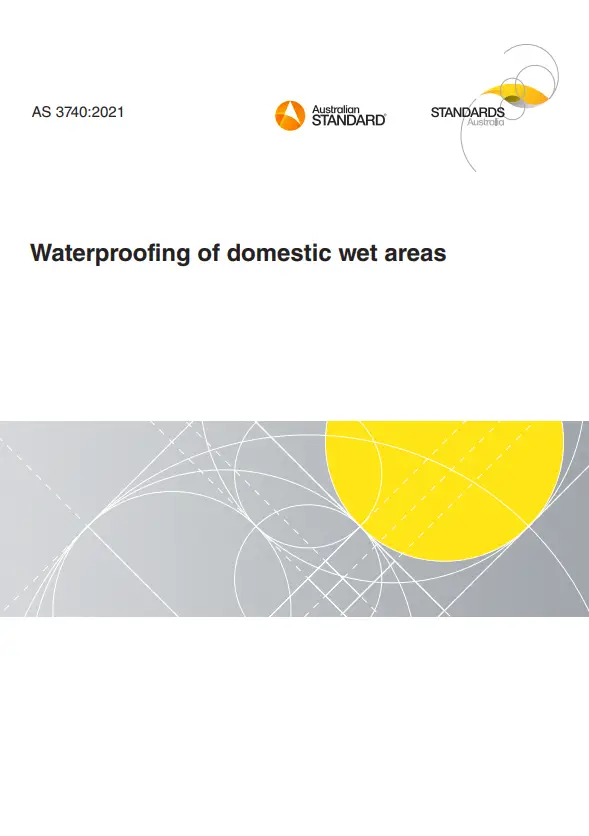 $89.00
Waterproofing of domestic wet areas
Published by Standards Australia, 07/23/2021
Description
AS 3740, 5th, 2021 – Waterproofing of domestic wet areas
The objective of this document is to set out the criteria for waterproofing wet areas within domestic buildings. It gives minimum requirements for materials, designs and installations.
The objective of this revision is to bring this document in line with the current waterproofing practices in the building industry. Changes from the previous edition include the following:
(a) Restructure for usability.
(b) Addition of figures with examples of application.
(c) Addition of information on risk levels of different areas.
(d) Inclusion of appropriate details for various risk levels.
(e) Clarification of usage definitions.
(f) Increased ease of reference for varying conditions.
(g) Revision of design and installation techniques.
(h) Expansion of information on shower and bath scenarios.
(i) Inclusion of informative integrity testing.
The role of waterproofing is to install waterproofing systems as a combination of waterproof and water-resistant materials in order to retain water within the designated wet area and exclude water from non-water-resistant building elements. It is intended that water be managed to an outfall at surface and substrate. Systems are intended to accommodate expected service conditions of the wet area to prevent damage by water and accumulated moisture to building elements.
AS 3740 is not to be interpreted as preventing the use of materials, systems or methods that meet the design and installation criteria set out in this document, but are not specifically referred to herein (alternative solution).
Additional requirements may need to be considered for wet areas intended for use by people with disabilities.
General Product Information:
| | |
| --- | --- |
| Committee | BD-038 |
| Purchase Note | All current amendments available at time of purchase are included with the purchase of this document |
| Document Type | PDF |
| ISBN | 978 1 76113 435 7 |
| Pages | 74 |
| Document Language | English |
| Publisher | Standards Australia |
| Status | Current |
Preview
Table of cotents
Preface
Foreword
1 Scope and general
1.1 Scope
1.2 Application
1.3 Normative references
1.4 Definitions
2 Materials
2.1 Scope of section
2.2 Design and installation
2.3 Movement joints
2.4 Materials
2.4.1 Waterproof
2.4.2 Water-resistant substrates
2.4.3 Water-resistant surface materials
2.5 Preformed, prefinished shower bases and enclosures
2.6 Sealants
2.7 Adhesives
2.8 Sheet fastenings
3 Installation
3.1 Scope of section
3.2 General
3.3 Falls in floor finishes
3.4 Shower floors
3.5 Curing of materials
3.6 Preformed shower bases
3.7 Baths with showers over them
3.7.1 Baths to be recessed into a wall
3.7.2 Baths with a downturn lip
3.7.3 Baths without an integral edge to allow for a vertical upstand for termination of waterproofing
3.7.4 Freestanding baths with shower over
3.8 Baths and spas
3.9 Junctions
3.9.1 Perimeter flashing
3.9.1.1 General
3.9.1.2 Perimeter flashing at floor level openings
3.9.2 Vertical flashing for shower wall junctions
3.10 Penetrations
3.10.1 Shower areas
3.10.2 Tap penetrations through horizontal surfaces
3.11 Required floor wastes for wet area floors
3.12 Wall sheeting or render
3.13 General shower area requirements
3.13.1 Substrate surface preparation for application of a membrane
3.13.2 Step-down showers
3.13.3 Hob construction
3.13.4 Enclosed showers without hobs or set-downs
3.13.5 Unenclosed showers
3.13.6 Additional requirements for bath end walls abutting a shower
3.13.7 Bond breaker installation for bonded membranes
3.13.8 Vertical membrane termination
3.14 Membrane to drainage connection
3.14.1 Termination to a drainage flange
3.14.2 Floor waste
3.14.3 Termination to a drainage channel
3.15 Installation of an internal membrane
3.15.1 Membrane application
3.15.1.1 General
3.15.1.2 Termination of membranes at showers with hobs
3.15.1.3 Termination of membranes at enclosed showers without hobs
3.16 Installation of an external membrane
3.16.1 Membrane application
3.16.1.1 General
3.16.1.2 Showers with hobs
3.16.2 Base termination of vertical flashing
3.16.3 Drainage riser connection
3.16.3.1 Preformed trays
3.16.3.2 Made in situ shower trays
3.17 Doorjambs and architraves
3.18 Shower screen
3.18.1 General
3.18.1.1 Unenclosed shower screen
3.18.1.2 Enclosed shower screen
3.18.2 Enclosed shower screen placement
3.18.2.1 Showers with hobs
3.18.2.2 Showers with step-downs
3.18.2.3 Showers without hobs or step-downs
3.18.2.4 Bath end walls and nib walls abutting a shower
Appendix A
A1 Scope
A2 Leakage through finishes
A3 Movement and waterproofing
A3.1 General
A3.2 Structure movement
A3.2.1 Frame movement
A3.2.2 Masonry movement
A3.2.3 Panel movement
A3.3 Wall linings under tiles in shower areas
A3.4 Prefinished wall panels
A3.5 Floors
A3.5.1 General
A3.5.2 General requirements of barriers
A3.5.3 In situ barriers—Properties and installation
A3.5.4 Set-downs
A3.5.5 Tiles within shower area
Appendix B
B1 General
B2 Factors affecting falls
B3 Fall ratios
B4 Diagonal cutting of tiles
Appendix C
Amendment control sheet
Bibliography