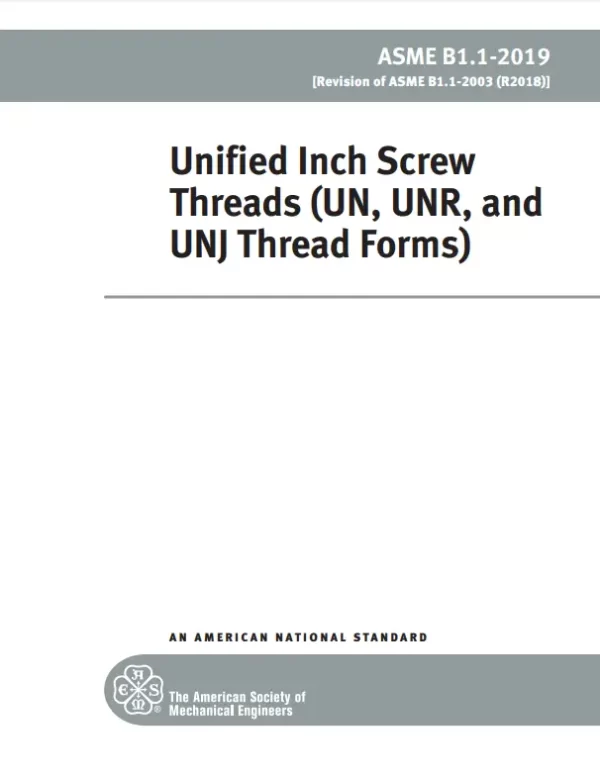 $119.00
Unified Inch Screw Threads (UN, UNR, and UNJ Thread Forms)
2019 Edition
Published by ASME International, 06/30/2020
Description
ASME B1.1, 2019 Edition – Unified Inch Screw Threads (UN and UNR Thread Form)
ASME B1.1 is a standard published by the American Society of Mechanical Engineers (ASME) that covers the unified inch screw threads used in mechanical fastening applications. The standard specifies the basic dimensions, tolerances, and thread forms for the unified inch screw threads, which are widely used in the United States, Canada, and other countries.
ASME B1.1 provides detailed information on the design, manufacturing, and inspection of unified inch screw threads, including the thread angle, thread depth, major diameter, minor diameter, pitch diameter, and thread tolerance classes. The standard also includes information on thread gauging, including the types of gauges used and the procedures for verifying thread dimensions and tolerances.
The purpose of ASME B1.1 is to ensure that unified inch screw threads are manufactured to consistent and reliable standards, which helps to ensure the safety and performance of mechanical fastening systems. The standard is widely used in industries such as aerospace, automotive, construction, and manufacturing.
Scope
This Standard specifies the thread form, series, class, allowance, tolerance, and designation for unified screw threads. (In order to emphasize that unified screw threads are based on inch modules, they may be denoted unified inch screw threads.) Several variations in thread form have been developed for unified threads; however, this Standard covers only UN, UNR, and UNJ thread forms.
The metric translation of this Standard that was in the 2003 edition has been removed (s
General Product Information:
Preview
Document History