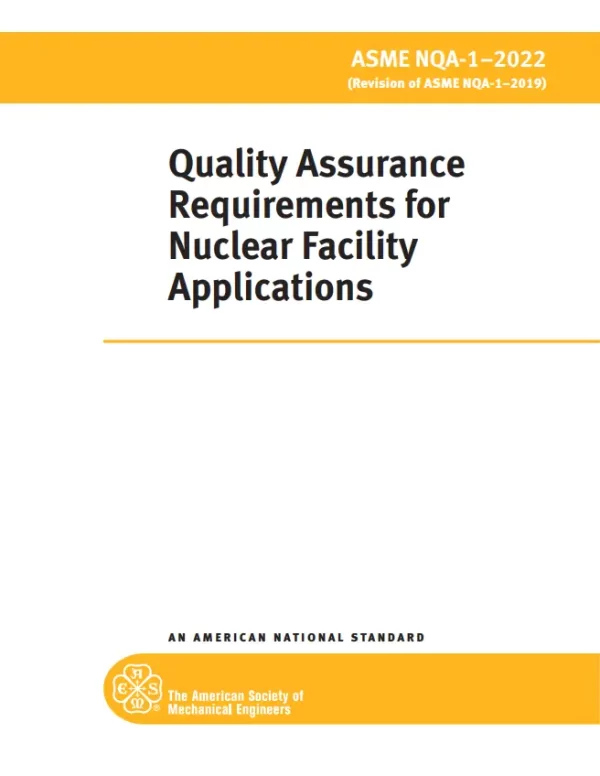 Quality Assurance Requirements for Nuclear Facility Applications
2022 Edition
Published by ASME International, 06/30/2022
Description
ASME NQA-1, 2022 Edition – Quality Assurance Requirements for Nuclear Facility Applications
ASME NQA 1 reflects industry experience and current understanding of the quality assurance requirements necessary to achieve safe, reliable, and efficient utilization of nuclear energy, and management and processing of radioactive materials. The Standard focuses on the achievement of results, emphasizes the role of the individual and line management in the achievement of quality, and fosters the application of these requirements in a manner consistent with the relative importance of the item or activity.
PURPOSE
Part I — this Part — establishes requirements for the development and implementation of a Quality Assurance Program (QAP) for nuclear facility applications. It is arranged by Requirements 1 through 18.
Part II contains additional quality assurance requirements for the planning and conduct of specific work activities under a Quality Assurance Program developed in accordance with Part I. It is arranged by Subparts.
Part III contains guidance for implementing the requirements of Parts I and II. It is arranged by Subparts.
Part IV contains guidance for the application of NQA-1 and comparisons of NQA-1 with other quality requirements. It is arranged by Subparts.
General Product Information:
Preview