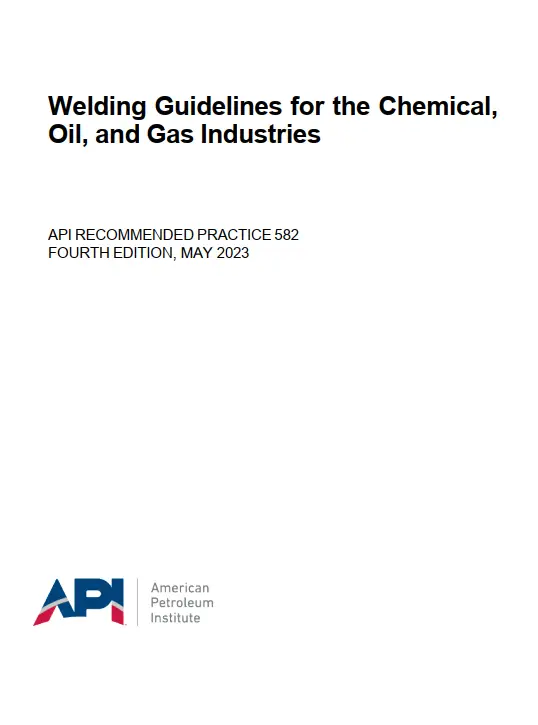 Recommended Practice Welding Guidelines for the Chemical, Oil, and Gas Industries
4th Edition
Published by American Petroleum Institute, 05/01/2023
Description
API 582, 4th Edition, May 2023 – Welding Guidelines for the Chemical, Oil, and Gas Industries
API RP 582 provides supplementary guidelines and practices for welding and welding-related topics for shop and field fabrication, repair, and modification of the following:
a) pressure-retaining equipment, such as pressure vessels, heat exchangers, piping, heater tubes, and pressure boundaries of rotating equipment and attachment welds;
b) tanks and attachment welds;
c) nonremovable internals for process equipment;
d) structural items attached and related to process equipment;
e) other equipment or component items when referenced by an applicable purchase document.
This document is general in nature and augments the welding requirements of ASME Section IX, ISO 15614, and similar codes, standards, specifications, and practices, such as those listed in Section 2 of this document. The intent of this document is to be inclusive of chemical, oil, and gas industry standards, although there are many topics not covered herein.
Welding related to fabrication of the following equipment or components is excluded from the scope of this specification:
a) structures;
b) pipelines;
c) subsea production systems;
d) marine related equipment (e.g. ballasting pipework, systems covered by classification societies);
e) wellheads, drilling, and downhole equipment;
f) bulk material components covered by a manufacturer's material certificate (e.g. seam welded pipe and fittings, clad pipe);
g) heating, cooling, and air conditioning;
h) nonmetallic materials;
i) other fabrication methods (e.g. bending and forming, brazing, and mechanical connections).
This document is based on industry experience. Restrictions or limitations may be waived or augmented by the owner/operator or purchaser.
Structural welds that are not welded to process equipment are outside the scope of this document.
Safety and health issues and concerns are beyond the scope of this recommended practice and, therefore, are not fully addressed herein. Safety and health information is available from other sources, including, but not limited to, the following:
a) ANSI Z49.1;
b) AWS Safety and Health Fact Sheets;
c) other safety and health information on the AWS website;
d) safety data sheets supplied by materials manufacturers;
e) operating manuals supplied by equipment manufacturers;
f) applicable regulatory agencies.
The publications listed in 1.6 a), b), and c) can be downloaded and printed directly from the AWS website at http://www.aws.org. The Safety and Health Fact Sheets are revised, and additional sheets are added periodically.
General Product Information:
Preview